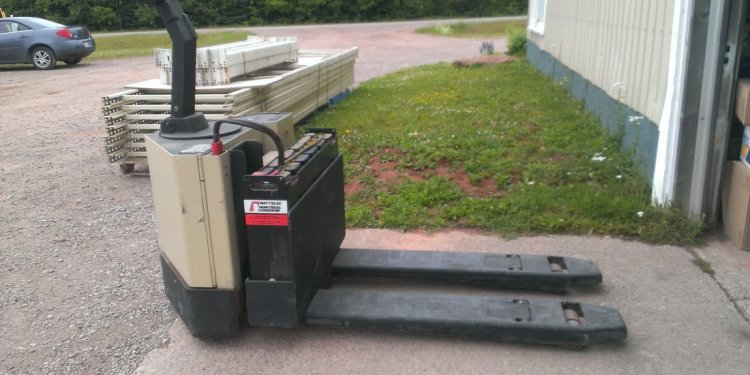 Crown triple Pallet Jack
LeBron James made news when he negotiated a $60 million three-year contract extension with the Cleveland Cavaliers that would keep him on the team through the 2009-2010 NBA season. Is anybody worth that? The Cavs obviously think so. He shows up and he's productive in every game he plays.
If you can't relate to someone who makes more than the amount of aid the United States gives to some third-world countries, how about a superstar pallet truck jockey who pulls down $60 K a year working the night shift at a Cleveland distribution center? Is any warehouse worker worth that?
Sysco obviously thinks so. Their people work safely. They're productive every day. And they show up for work.
Sysco, a $30 billion foodservice distributor, isn't afraid to share its wealth with the workers who were instrumental in helping the company achieve its high industry ranking. Five years ago 163 people at the company's 463, 000-sq.-ft. Cleveland site worked the night shift picking cases. Today 69 people are shipping more out of this facility than that workforce once did. Starting pay for an order selector here: $13.69 an hour. Stars can make $60, 000 easily, just picking groceries.
"If you have no errors, and your customers are happy and continue to buy from you, and they're growing their business while you're growing yours, that person is worth that much money to us, " explained Carl West, manager of facilities at Sysco Cleveland, during a recent tour of his facility.
As with LeBron James, attendance plays a big part in that profitability. So does the equipment they use. Sysco Cleveland's night shift uses triple pallet jacks (from Crown). According to West, this has made a big difference in worker productivity.
In the old days the night shift used single pallet jacks, then graduated to doubles. Three order selectors picked a total of six pallets in the course of two trips. With the triples, two night shift workers can do the work of three. With Sysco's warehouse management system, pick tours are generated so that selectors rarely go anywhere in the facility with empty forks.
Share this article
Related Posts