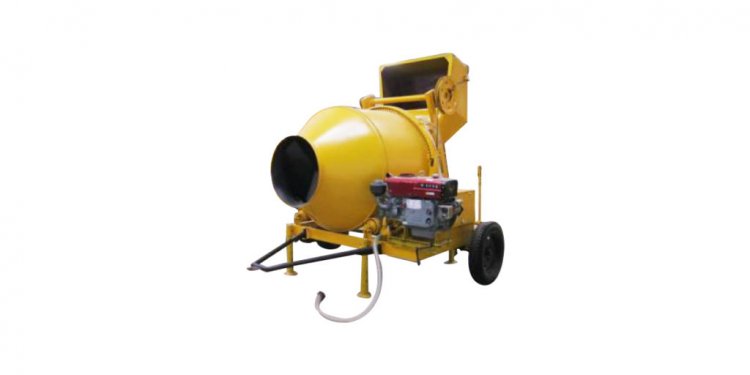 Cost of Concrete Mixer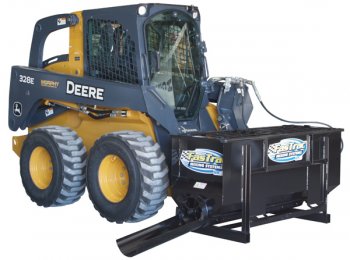 Portable Concrete Mixer
The FasTrac Concrete Mixer turns any skid steer loader into a portable concrete mixer, ideal for applications where space, speed, cost and convenience are factors. It's an ideal alternative to full-sized mixers when cost, speed and accessibility are issues; and provides more capacity and convenience than drum mixers, and is quicker and easier to clean.
Being able to mix right at the pour site saves time, streamlines operations, and is ideal when pouring fast setting concrete. An optional water tank provides even more mobility. The manual gate control gives you precise control of pours, and the tight seal makes it good for self-leveling applications. An optional hydraulic operated gate turns a two-man operation into a one-man operation; and with outside override controls, you can control the mixing process while standing outside of the skid steer cab.
The FasTrac delivers superior mixing with less maintenance. Baffled corners help prevent dry material build up, and the reversible auger delivers superior mixing and controlled dispensing. There are no rubber paddles to repair and replace. The one-piece all-steel auger delivers long lasting performance. The trough is rubber instead, providing the flexibility required for larger aggregate. Positioned under the mixer, it's easy to access for occasional maintenance. The design permits tighter tolerances between the auger and trough to reduce separation of larger aggregate, again – for superior mixing.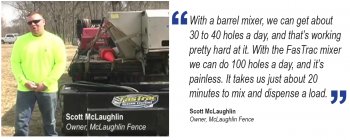 The FasTrac mixer allows you to pour from the left or right side, and the chute extends up to 6 feet. With up to a 3/4 yard capacity, you can cover more ground and increase productivity than when using a portable mortar mixer.
Compared to other skid steer mixers, the FasTrac weighs 500 lbs less – a critical difference when considering the equipment's maximum lifting capacity when mixing a full load. Choose from two models. The FasTrac 500 with a half-yard capacity and the 750 with a 3/4 yard capacity. Options include a hydraulic gate and water tank.
The FasTrac Concrete Mixer is powered by a 11.9 cu. in. hydraulic motor connected to 4, 000 PSI hoses, equipped with standard quick-disconnects for skid steer loaders. .
Features/Benefits
Ideal for fast setting concrete – mix right at the pour site!
Reversible auger for superior mixing & dispensing
Less expensive alternative to full-sized mixers
More capacity than portable mortar mixers
Good for places where space is limited
Lower weight compared to competitive mixers – won't exceed equipment's lifting capacity when full
Lower maintenance all-welded solid steel auger
Easier and faster to clean than mortar mixers
Tighter tolerances between the auger and trough means superior mixes
Rubber trough base accommodates aggregates of different sizes without damaging the auger.
Chute extends up to 6 feet
Pour left or right hand side
Share this article
Related Posts