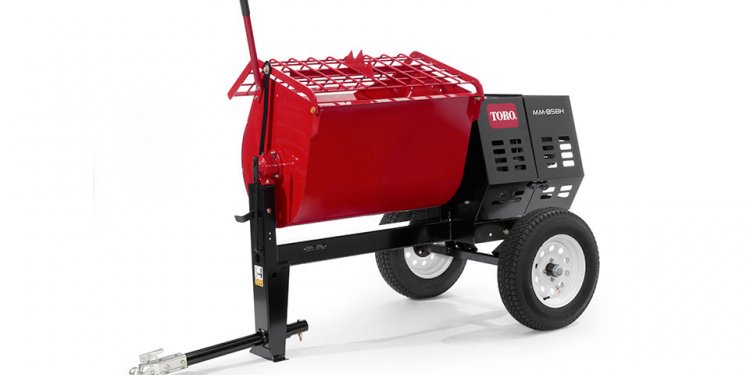 12 cubic foot Concrete Mixer
What is the difference between a concrete and a plaster mixer?
The concrete mixer is used to mix coarse aggregate such as rock, sand and cement called concrete for setting posts, pouring concrete foundations and slabs. Any mix that uses rock or other course aggregate is best prepared in a concrete mixer. Many contractors also use this type mixer to mix mortar for brick or block.
The plaster mixer is used to mix exterior stucco, interior plaster or mortar for brick, block, floor tile, etc., and any mixes that do not contain rock, gravel or any other aggregates.
What sizes are available in concrete mixers?
There are five different drum sizes. These are used with different frame and axles to give us 12 different concrete mixers. Batch capacities available are:
| | |
| --- | --- |
| 1/4 to 1/3 sack | 2 cubic ft. |
| 1/3 to 1/2 sack | 3-1/2 cubic ft. |
| 1/2 to 3/4 sack | 5 cubic ft. |
| 3/4 to 1 sack | 6 cubic ft. |
| 1-1/2 to 2 sack | 9 cubic ft. |
What sizes are available in plaster/mortar mixers?
There are three different tub sizes. These are used with different frames, power and axles to give us different plaster/mortar mixers. Batch capacities available are:
1 to 2 sack
2 to 3 sack
8 cubic ft.
3 to 4 sack
12 cubic ft.
Are Canoga mixers available with gasoline engines or electric motors?
All Canoga concrete mixers (except for the model 80 - electric only) are available in both electric or gasoline versions. Canoga gas mixers are available with either Honda or Robin engins. Diesel engines are also available upon request.
Electric motor plaster/mortar mixers special order only.
Do Canoga concrete mixers come with different tire/wheel sizes?
Yes!
Some models are available with 4.80 x 8" (16" outside diameter) high speed pneumatic tires and a rigid axle.
Other models are available with A78 x 13" (24" outside diameter) automotive tires and a rigid axle or a torsion-bar suspension.
Both are highway safe.
Do the gears on a concrete mixer need to be greased?
No!
Although, if you grease them there might be a slight noise reduction, the grease can collect dust and dirt which will act as an abrasive, thus wearing the gears prematurely.
Are most parts easy to replace?
Canoga mixers are designed so that most parts can be replaced on the job site with normal tools. NOTE: If a customer is in need of assistance in repairing or replacing parts, call Southeast Construction Products (Parts & Service Department) for technical assistance. If the customer wishes, and they are near enough, they may bring the mixer in to our repair shop in South El Monte for service and repairs.
How do I get parts for Canoga mixers?
Customers can call Customer Service at MK Diamond Products at 800-845-3729 Monday thru Friday - 6am to 5:pm PST
We ship parts via Fed-Ex or UPS direct to the customer.
Where are Canoga mixers made?
They are made in the U.S.A., in Torrance California.
What is the warranty period?
1 Year!
MK Diamond Products offers a 1 Year limited warranty. All guarantees and warranties of electric motors and gasoline engines are subject to their respective manufacturers. They have authorized service centers in most cities.
Are Canoga mixers highway safe?
All towable Canoga mixers are engineered for smooth rides and have a standard 2" trailer hitch. Other hitch styles are available, such as - pin hitch or - ring hitch. In addition, skid mount mixers are available without the wheels and towing bar. These are usually the type used for mounting on trucks. Our Factory has the capability of truck mounting all models.
What size extension cord should be used with electric powered mixers?
The wire gauge selection will vary with the length of the extension cord from the power source and the amperage required by the motor:
Size of wire
25 ft.
50 ft.
100 ft.
250 ft.
14-gauge
15 amps
13 amps
7 amps
12-gauge
20 amps
11 amps
10-gauge
30 amps
18 amps
Can the electric motor cord be plugged into 220 volts?
Not with the standard electric motors. However, 220 volt or 3 phase motors can be purchased and factory installed on a special order basis.
Do Canoga mixers need to be registered with the DMV or your local motor vehicle authority?
Requirements vary according to your locale. You should check with the motor vehicle agency in your area.
Are lights or fenders required for towing?
Not usually, but you should check with your local highway authorities to be sure.
Is there anything in particular about gasoline engines that I should know?
The fuel valve should always be turned to the OFF position before towing the mixer. If you fail to do this, the engine cylinder may fill with gasoline making the engine unable to start. To clear this, it may be necessary to remove the spark plug from the engine with a spark plug wrench.
Instructions:
Pull the starter cord several times to force the raw fuel from the piston chamber.
Replace the spark plug wire.
Start the engine by using the usual procedure.
Share this article
Related Posts