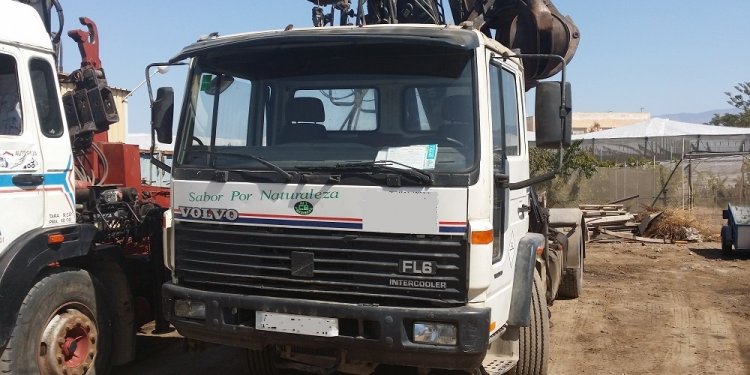 Knuckle Boom cranes, Truck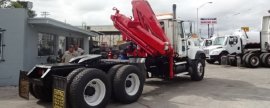 Knuckleboom trucks are extremely versatile machines, and a mainstay in the utility industry. The cranes on these adept vehicles offer many advantages in compact, yet strenuous service, due to their design. Cranes with worm drive rotation, such as those mounted onto many utility trucks, are very popular when using a smaller crane in a tighter spaces. When searching for boom trucks for sale, a buyer should always inspect the turning mechanism so they purchase the proper unit. For lighter industrial operations such as utility work, knuckleboom trucks for sale with worm drive rotation are preferable.
What is Worm Drive Rotation?
Worm drive rotation is a method of rotation created with a worm drive gear and a worm screw. The drive gear is a toothed gear and the worm screw is a large metal screw with a continuous thread. The teeth of the gear are designed to fit into the threads of the screw. When the screw is turned, the gear also turns. This very simple, yet effective method of turning a gear is used for everything from turning the keys that tighten a guitar string, to rotating much larger things - such as cranes.
Why Rotation Devices on Small Cranes Make a Difference
By most accounts, knuckleboom cranes on trucks are smaller, and used for light to medium-duty work. With this type of setup, the amount of space the crane uses is important, which is why knuckleboom cranes are preferable for smaller, truck-mounted operations as they take up much less space than any other type.
Worm Drive vs. Slew Bearing Rotation
Worm drives are much more compact, fully contained mechanisms, since the only part that needs powering is the threaded worm itself. Worm drives also require no actual braking, since discontinuing power to the worm acts as the braking mechanism, making them less complicated to use. Their design usually allows for smoother, continuous 360-degree rotation, as well. This can be important for applications like utility work. These rotational gears require little maintenance other than ensuring they are well-oiled.
In comparison, much larger cranes generally use slew bearing rotation as it is designed to be more durable; however, that durability comes at a price. Slew bearing rotation on any new or used boom trucks for sale requires a larger motor, as well as a braking mechanism. This is not as efficient in cramped spaces. Often times, these cranes do not rotate a full 360 degrees, which can be an inconvenience on some jobs. Bearings also tend to require more maintenance, in comparison to worm drives. Large slew bearing cranes can withstand huge amounts of weight and pressure, making them ideal for much heavier work where the screw drive rotation crane would not hold up.
For purposes of the typical knuckleboom truck, worm drive rotation cranes are the most preferred, and commonly available cranes. Although there are smaller knucklebooms available with slew bearing drive rotation, unless there is a specific need for it, utility and service companies in the market for knuckleboom trucks for sale will find worm drive rotation to be the best option. Should a buyer come across any other types of cranes while searching for new or used boom trucks for sale, understanding the differences in crane rotation mechanisms can be very helpful!
Share this article
Related Posts