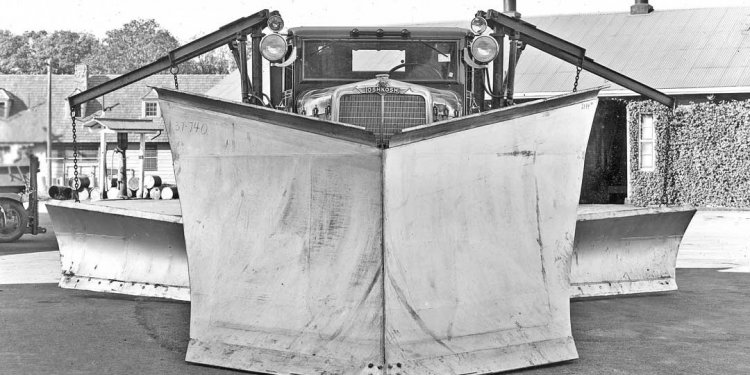 First Snow Plow
This week's East Coast blizzard that shuttered airports and trapped subway riders was just the latest in a long technological battle by modern cities against snow, as the National Snow and Ice Data Center reminds us. — Ed.
Snowstorms have historically plagued many states, notoriously those located in the Northeast and Midwest. Winter storms occur all over the country, but the "Snowbelt, " stretching across the Great Lakes from Minnesota to Maine, receives the brunt of winter storms. Just as the first settlers on New England's shores struggled to survive the brutal snowstorms, so do the inhabitants of today's metropolises. Cities such as Buffalo, New York City, Milwaukee and Detroit experience snowfalls that strand residents in snow deep enough at times to be measured in feet rather than inches.
Officially, the National Weather Service defines a blizzard as large amounts of falling OR blowing snow with winds in excess of 35 mph and visibility of less than 1/4 of a mile for an extended period of time (greater than 3 hours). German settlers in Iowa originally coined the word blizzard, coming from the word blitzartig, meaning "lightning-like." European pioneers and settlers were astounded by the severity of the winters in the New World. Although accustomed to snow in their homelands, they were newly confronted with driving winds and freezing temperatures characteristic of Snowbelt regions.
Old World Settlers Combat New World Snow
Early East Coast settlements received their share of blustery storms and were battered by a series of harsh winters. Not only was the snowfall deep, but the weather was extremely cold, often freezing the bay around Boston and rivers to south as well. However, most travel was by foot, so many early storm fatalities occurred when coastal ships were caught in winter gales. Perhaps the most pressing problems for new settlers entailed shortages of wood and coal for heating homes.
As the towns grew and established routes for travel and postal service, several storms in the early 1700's rendered the roads impassable and hindered communications. A 1717 storm dumped three to four feet of snow, which in some places drifted to 25 feet. The journey from New York to Boston was almost impossible; the single successful post runner abandoned horseback for snowshoes. For over a hundred years, this storm was known as "The Great Snow." Other, less severe, snowstorms followed over the years, accompanied by the usual winter hardships. In 1741, frozen waterways and harbors resulted from a severe and very cold snowstorm, curtailing shipments along the East Coast for over a month.
Although severe weather hindered commerce, residents learned from their experiences. City residents began stockpiling firewood and other supplies in advance of winter disasters. For those who couldn't afford enough wood or coal to warm their homes through the winters, several charities came to their aid. To improve travel, horse carts and coaches were installed with ski-like runners in wintertime, which were better able to handle snowy conditions than wheels. Of course, parties of revelers often took advantage of the snowy roads and ice-covered rivers, which proved excellent for sleigh rides.
Weather-watchers in rural areas and cities kept wary eyes on temperature and air pressure, and provided a climatological record as well as weather diaries for future reference. Beginning in the 1820s, they sent records to the Smithsonian Institution where the various reports were collected in an attempt to analyze and forecast weather. Reports were also relayed to the public via newspapers and telegraph dispatches.
As populations grew and commerce needs expanded, wintertime blizzards began to present more critical problems to city dwellers who relied on frequent deliveries of food and supplies. In severe winters, intercity roads and railways were often blocked for weeks at a time. Ice-jammed waterways prohibited coastal shipments as well. Fire hazards became a worsening problem, due not only to increased congestion of stoves and fireplaces, but also due sometimes to the extremely low temperatures that froze water in the tanks and hoses of the firefighting equipment.
Early Attempts at Snow Control and Removal
Early attempts at snow control simply involved citizens going into the streets to level the drifts for sleigh traffic. Ordinances in many cities required homeowners to clear their sidewalks of snow, but snow removal was not yet practiced on a citywide basis. In order for residents to travel by carriage, or for merchants to receive goods (and customers), they were responsible for clearing their own streets. Snow shovelers were frequently hire to do this for them. As a result, wintertime travel in the early 1800s was still mostly by foot.
As the 1800s progressed, new buildings and new technologies were put to the test by severe winter storms. Heavy, wet snow collapsed roofs and suspension bridges. Gale-force winds mangled telegraph and electrical lines and downed poles, increasing the threat of electrocution and electrically sparked fires. Cities like Milwaukee, Chicago and New York responded to these new problems, enacting new codes to ensure that buildings could withstand the combined forces of snow and wind. Public officials and residents alike called for putting existing and future telegraph wires underground to avoid further safety hazards.
The Scoop on Snow Plows
Enterprising inventors were issued the first patents for snow plows in the 1840s, but several years passed before the plow designs were put to use. One of the first mentions of snow plow use comes from Milwaukee in 1862. The plow was attached to a cart pulled by a team of horses through the snow-clogged streets. Over the next several years, horse-drawn plows gained popularity and came into use in many other Northeastern cities. Intercity steam trains, having made their appearance several years earlier, now puffed and whistled their way through heavy drifts with giant plows attached to their front ends. Salt was used in a few cities, but was strongly protested because it ruined the streets for sleighing and damaged the shoes and clothing of pedestrians. However, the invention of the snow plow initiated widespread snow removal efforts in cities and also created a basis for municipal responsibility in snow removal.
Share this article
Related Posts