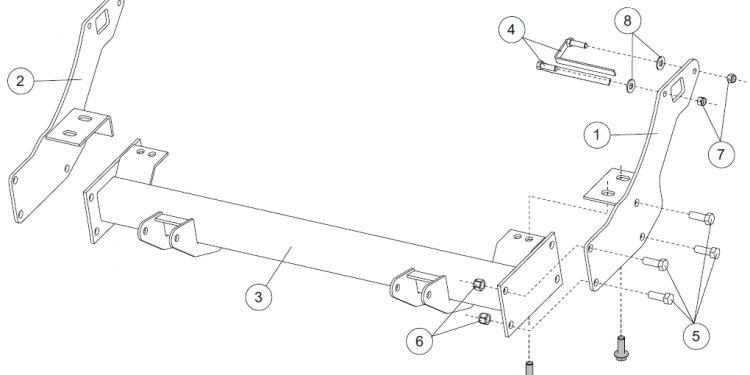 Parts of a Snow Plow

On this page you will find access to all of the Western Snow Removal Equipment offered here at Angelos. Angelos can provide the entire product line of Western Snow Plows to satisfy the needs of all end users from large commercial jobs to light use personal truck or SUV mounts. For more information about buying Western Snow Plows from Angelos call 1-877-ANGELO-2
Looking for a personal plow? The SUBURBANITE is the perfect plow for the homeowners or anyone interested in knocking out those smaller sized jobs around town. The suburbanite attaches to almost every make and model of trucks and SUVs - make sure to call today to learn about how your vehicle can be quickly transformed into a snow moving machine!
Having some slightly bigger, mid-sized jobs that the Suburbanite might not cut it for? The Western MIDWEIGHT PLOW is the perfect match for these light commercial jobs. This model is lean and nimble but still provides plenty of power when duty calls.
A step up from the Midweight is the PRO-PLOW SERIES. The PRO-PLOW SERIES 2 has remained one of the top selling commercial straight blade models preferred by contractors since its conception. If you need to move more snow and your operation has a capable heavy-duty truck then this may be the most appropriate choice for you. Additionally the Series 2 product line includes options for powder coated steel or poly.
Need to go even bigger? For heavy duty contractor jobs and light municipal duties Western provides the excellent option of the PRO PLUS® PLOW If you need to move serious snow fast this is the perfect set-up.
Western also recognizes that straight blade plows, while very efficient and powerful, aren't always the most versatile in application. If you encounter a lot of jobs with obstacles to navigate and odd shaped areas to clear the MVP PLUS V-PLOW or MVP 3™ is the answer for you.
Looking for more versatility? Western provides the WIDE OUT snow plow which allows a controllable plow width range from 8 to 10 feet. Additionally it provides the utility to move the outer wings into a scoop position in order to corral larger amounts of snow.
As always if you currently own one of the plows offered on this page and need to complete some repairs click through for a listing of all the appropriate replacement parts to keep your rig running at optimal conditions. This includes parts both big and small. Everything from washers and U-bolts to core components like hydraulic power units as well as essentials like fresh cutting edges are available here at Angelo's. We can also provide UNI-MOUNT to ULTRA-MOUNT conversion kits. Keep your snow removal equipment in tip top shape, call Angelos today for any questions about replacement parts you may have.
Also don't forget that our inventory is not limited to plows manufactured by Western! Angelos can supply snow and ice removal equipment and parts from all the top brands in the industry. Check out what we offer from other manufactuers here including SnowDogg, SaltDogg, Meyer, Snow-Ex, Fisher, Blizzard, and BOSS
Share this article
Related Posts