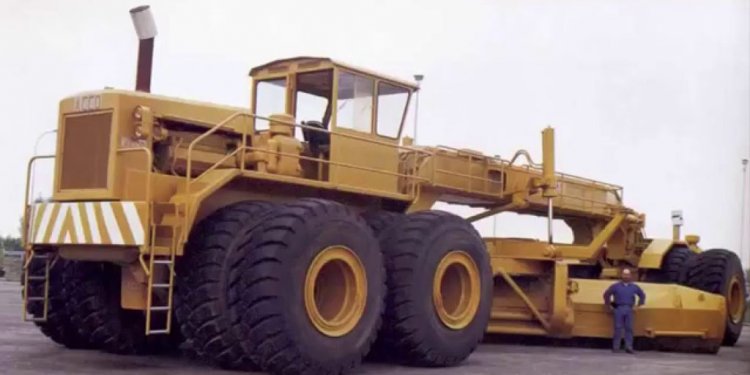 Largest Motor Grader
Under the theme 'Care Without Boundaries', SDLG will host an international product launch and press conference at the show on November 22 at 11 a.m. Wang Zhizhong, board chairman of SDLG, will reinforce the company's commitment to providing better value and support to customers, while also highlighting SDLG's development as a truly international company. SDLG has two adjacent outdoor booths – B54 and C50 – occupying just over 2, 800 m2. The product launch and press conference will take place at booth B54.
The G9260 in focus
The new G9260 motor grader has been built to handle a variety of tasks such as land grading, ditching, bulldozing, slope scraping and snow removal work. It is ideally suited to mining and large-scale infrastructure projects. The new model will be sold in China in early 2018.
Powered by a Tier 3 SD13 engine, the G9260 features optimized weight distribution, an impressive 136 kN tractive force and is equipped with a hydraulically powered wet brake system. The electronically controlled engine matches perfectly with the powershift transmission control valve and the mechanical transmission system, achieving optimum performance and fuel efficiency. The double fuel tanks in the G9260, the first of their kind in China, ensure high driving force and reliability.
The G9260's cab features the latest generation of operator safety and comfort, including a new falling-object and roll-over protection structure (FOPS/ROPS). The electric-hydraulic locking mechanism also ensures safe and convenient operation.
High expectations
Yu Mengsheng, CEO of Lingong, has high expectations for SDLG at the country's largest trade expo for the construction and building-materials machine industry.
"SDLG has established itself as one of China's most reliable machinery brands in the global market, " he says. "Responding to customer demand, launching the G9260 marks another milestone for SDLG, as the company strives to produce the best motor graders in the nation. The new model joins our broad range of road building equipment and we are excited to unveil it to our customers and dealers. To us, bauma China is the gateway to the international market and we look forward to showcasing some of our newest capabilities to potential future customers."
Committed to becoming the world's leading Chinese construction machinery brand, SDLG has established a global dealer network that covers more than 80 countries. The company's full bauma China lineup will include:
Excavators: E665F, E680F, E6225F, E6460F and E7150F
Wheel loaders: L918, L968F and LFT30
Motor graders: G9138, G9165, G9190, G9260 and G9920
Road rollers: RD730 and RS7260
Backhoe loader: B877
Share this article
Related Posts