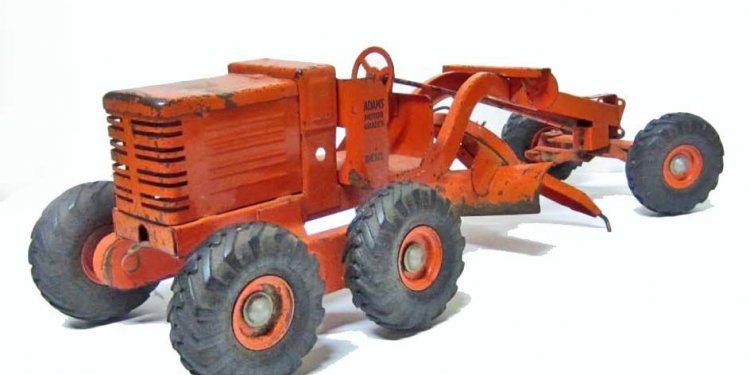 Adams Motor Grader
Featured here is an Adams 666. The photos came to me from Canada and I am not all that familar with this particular machine. However Adams in an old name in the manufacture of graders dating back to the days of horse drawn ones. They ultimately became part of Westinghouse and LeTourneau. Alas the name badge is no longer around.
Not a lot of imagination went into building this grader. It appears to be a direct knock off of a Caterpillar #12 of the 1950's, presumably done so that they could bid against Cat on government spec bids and meet the spec's which were often written to attempt to exclude anything except a Cat grader.
This grader is of the 'finger slapper' design with dog clutches turning shafts to position the blade, which was standard on 'motor graders' from the 1930's forward until eventually they went to direct hydraulics. The main differential that you will find in these machines as compared to the Cats is the engine. Cat made their own engines (typically using a D-6 engine for the classic #12. Older model Adams often had an International UD14 (start on gas/switch to diesel) engine, but the later models, like champion I believe offered a choice of Cummins or Detroit Diesel engines.
Share this article
Related Posts