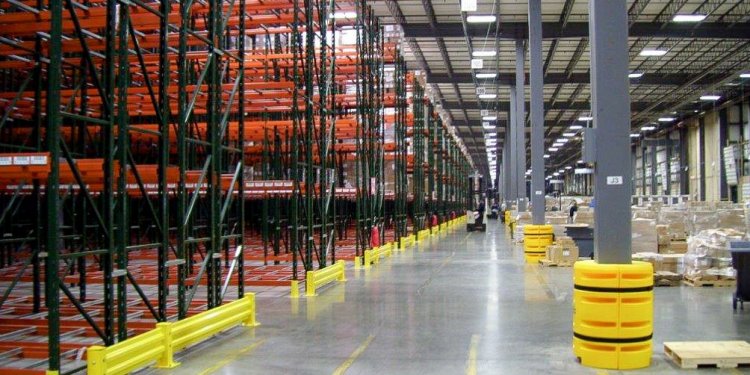 Material Handling companies in USA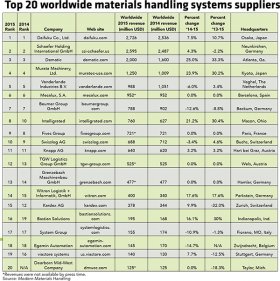 By Josh Bond, Contributing Editor ·
Despite currency conversion woes, the pace of growth among the largest systems suppliers in the materials handling industry remains strong, driven by increased interest in automation and aftermarket support.
Those are two important takeaways from Modern's 19th-annual "Top 20 Systems Suppliers" list, which shows nearly universal revenue growth in 2015 among the top players, including some double-digit performances. The numbers also reveal that once again, Daifuku and Schaefer Systems International (SSI) lead the industry, with both reporting 2015 revenue well above $2.5 billion. Read last year's list.
Even after accounting for currency conversions that chipped away at revenue gains reported by foreign companies, the combined value of the Top 20 increased by 6%, including 10% growth by the top five.
While some industry experts were predicting a softer market, 2015's reported growth comes as no surprise to Norm Saenz, a managing director of St. Onge Co. "There is a lot happening in the supply chain that is driving the need for more automation, like the continued growth in e-commerce and the emergence of omni-channel fulfillment, " Saenz says. "I'm not surprised to see the overall 2015 revenue numbers increased over 2014, and I did notice that a few of the manufacturers with strong North American businesses (Intelligrated, Dematic and Bastian) had some of the top revenue gains. Given the current demands on operations to handle more products and volumes this growth is only going to increase into 2016."
The view from the top
After Daifuku claimed the No. 1 spot last year, edging out its longtime rival Schaefer Systems International (SSI) by less than $50 million, it continued atop the leader's list after posting a 7.5% gain to $2.73 billion. A Daifuku representative reports that sales of materials handling systems for flat panel displays and semiconductors in Asia increased greatly, as did sales of retail solutions, including e-commerce. The company also cited steady growth in maintenance and aftermarket services—a theme repeated by Dematic, Vanderlande, Intelligrated and Knapp.
SSI held steady in second place, posting nearly $2.6 billion, an 11% increase in Euros over 2014, according to president Arnold Heuzen. As a result of the devaluation of the Euro versus the dollar, our list indicates growth of 4.3%. "Schaefer continues to experience strong demand for its systems solutions in the areas of intralogistics, retail distribution and e-commerce fulfillment, " Heuzen says.
Dematic again secured third place, but reported the largest growth rate on the list, jumping 25% from $1.6 billion to an even $2 billion. In December 2015, Dematic acquired Reddwerks Corp., a provider of warehouse execution software (WES). The company also cited a broadening market for solutions targeting small-to-mid-sized businesses that are aiming to enhance their capabilities.
"The global supply chain needs to be flexible, responsive and agile and empowered to deliver goods to consumers on demand, " said Dematic president and CEO Ulf Henriksson following the Reddwerks acquisition. "Retailers and manufacturers need to be positioned to respond to this dynamic demand. The only way to effectively achieve responsive order fulfillment is through an automated supply chain, powered by comprehensive real-time software."
In fourth place is Murata Machinery, which reported a 24% growth rate to close 2015 with $1.25 billion in revenues—one of just three companies to post growth in excess of 20%, and coming on top of more than 14% growth in 2014. Much of that growth was the result of Murata's 2014 acquisition of Finnish automated materials handling supplier Cimcorp, which contributed more than $200 million to that year's revenues.
CEO Govert Hamers notes that Vanderlande had a breakthrough year in each of its focus areas: food retail, fashion, parts and components, and e-commerce, along with an uptick in the number of service contracts, which now constitutes 20% of revenue. "Companies are moving up from manual and automated-assisted manual systems toward full automation, " Hamers says. "Cost reduction is a major driver, as is the consolidation of distribution networks—customers want fewer, larger distribution centers. Automation delivers efficiency and predictable, lower operational costs."
The rest of the pack
Given fiscal year ends, several companies were unable to report revenues by press time. In these cases, we've held previously reported revenues to preserve each company's relative position on the list. One of those was sixth-place finisher Mecalux.
Seventh-place Beumer held its ranking with its second consecutive year of 4.4% growth—at least in Euros, which belies an apparent drop in revenues following currency conversion.
Intelligrated posted 2015 revenues of $760 million, growing by $133 million, or 21%, and jumping two spots to 8th place. The company attributes its banner year to continued interest in solutions that address Internet retailing and the state of the logistics workforce. "The volume and complexity of e-commerce and omni-channel retail continue to drive our customers to find more efficient ways to manage and move inventory, " says Chris Cole, Intelligrated's co-founder and CEO. "This requires our industry to deliver reliable results and return on investment, with the flexibility to accommodate evolving business requirements."
Ninth-place finisher Fives Group was unable to provide 2015 revenues by press time, so the company's previous total of $721 million has been carried over.
At No. 10, Swisslog held steady at just shy of $700 million. After becoming a member of the KUKA Group in early 2015, Swisslog continues to be managed as a separate unit within the group. In April 2015, Swisslog acquired Forte Industries, a Mason, Ohio-headquartered system integrator for warehouse automation. According to Bill Leber, director of business development and marketing for Swisslog, the acquisition is intended to strengthen the company's strategy by adding a complimentary spectrum of products and services while increasing the range of market coverage, especially in the e-commerce and pharmaceutical segments.
Share this article
Related Posts