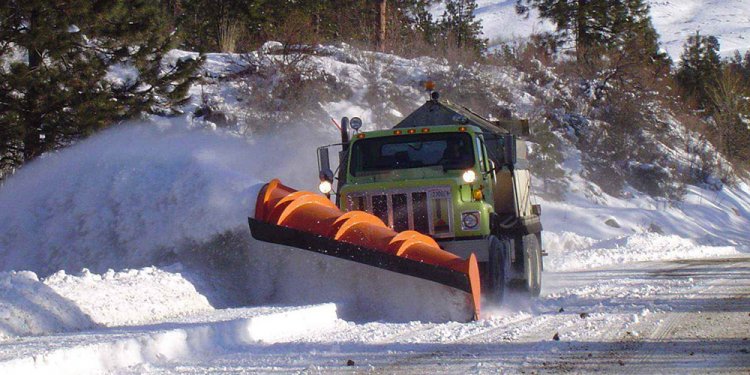 Homesteader Snow Plow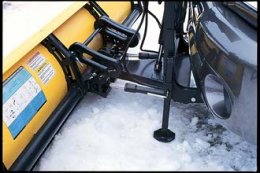 Trip Blade Protection
Heavy-duty elastomer trip springs allow the blade to trip forward when it strikes an obstacle, just like the big blades, to protect your snow plow and your vehicle from any jarring damage.
Lightweight
The Homesteader Personal Plow complies with federal standards and vehicle manufacturers weight ratings.
Removeable Brackets
The receiver brackets on your vehicle are removable, by simply pulling the pins, for optimum ground clearance when you're not plowing.
Easy On and Off
Attaching your Homesteader Personal Plow is simple. Either drive into the attachment arms on the snow plow or slide the Homesteader snow plow into the receiver brackets on your vehicle. Then connect two pins, remove two jacks, and plug in the electrical connectors.
Detaching is just as easy, so you can leave the plow off your vehicle when not in use.
Hydraulic Scrape Lock
The exclusive Scrape Lock feature hydraulically locks the plow blade down for cleaner scraping and back-dragging performance. The fast hydraulics allow you to change the blade position quickly and easily for efficient plowing.
Hand-Held Controls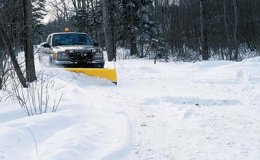 With the convenient hand-held control, you can raise, lower and angle the plow from the comfort of your warm vehicle, just like the pros. A compact dash-mounted joystick (not shown) is also available.
Affordable financing programs for Western, Fisher and SnowEx, Snow Plows and Salt and Sand Spreaders, designed for In-State and Out-of-State residence.
Contact us for more information on all these finance options, 800-678-2459.
90 Days Deferred Payment
COMMERCIAL PROGRAM DETAILS
Available on new and unused snow removal equipment, all models
No down payment
First payment due 90 days from date of closing
Interest rate: 9.99%
Repayment Terms: 36 consecutive monthly payments
Minimum Transaction Amount: $1, 500
Maximum Transaction Amount: $50, 000
$150 Customer Documentation Fee
Loan transactions may be prepaid with no penalty
CONSUMER PROGRAM DETAILS
First payment due 35 days from date of closing
$50 Customer Documentation Fee
Application for Credit Local/In-State Residence:
PDF Application
Please print and complete the form and submit to QTE by one of the following.
After application is approved, must be able to provide a signiture in person at our location.
QUESTIONS, CALL: 800-678-2459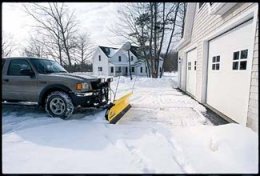 MAIL or IN PERSON: Doug Wallem
Quality Truck and Equipment
1201 East Bell Street
Bloomington, Illinois 61701
FAX: Attn: Doug Wallem
309-662-5409
CALL QTE today for financing information.
800-678-2459
Delivering Quality and Service to the Plowing Industry for over 60 Years
Dedication to quality and service has been a FISHER tradition from the start. A proven and a trusted company, Fisher Engineering has been producing snow plows for over 60 years in the coastal city of Rockland, Maine. Through the years our plowing equipment has earned us a solid reputation for reliability and strength, especially among commercial snow plow professionals.
Whether you're a homeowner, small business owner, professional snowplower or municipality, Fisher Engineering has a snowplow to fit your needs. We offer snow plows that are built to withstand the rigors of any commercial application as well as personal snow plows for smaller and lighter four-wheel-drive vehicles. To help you find the perfect snow plow for your truck use our eMatch system. Whatever your snow removal needs, Fisher Engineering has the right snow equipment to help you get the job done.
Our focus is on our customers; we work hard to manufacture innovative products that give our customers an edge in the market. Timely service to our customers has always been, and will continue to be, a hallmark of our company.
A Partner in Snow Removal
We're proud of our products and confident that your investment in FISHER snow plows and ice removal equipment will pay dividends for years to come. Fisher Engineering offers a wide range of snow and ice control equipment for the professional snow plower. From rugged straight-blades, to hard-working V-plows and a versatile expanding-moldboard model, Fisher Engineering offers high-capacity solutions for every plowing need. A full line of tailgate and hopper salt and sand spreaders completes the snow and ice control equipment product offering.
As a market leader, Fisher Engineering believes it is important to proactively pursue environmentally responsible policies and procedures, not only internally but also throughout our extended supply chain.
Share this article
Related Posts