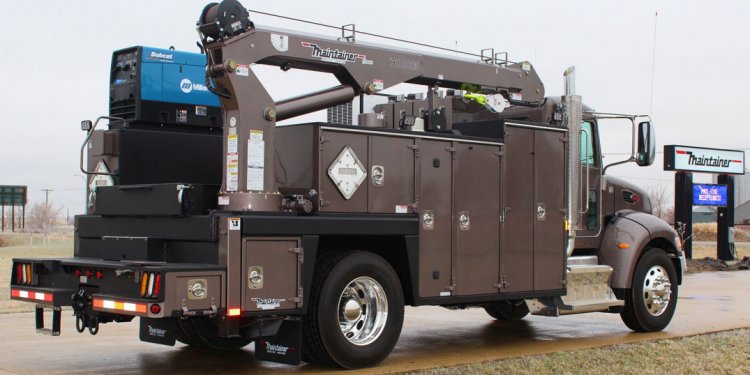 Service Body Cranes
Whatever service your company or municipality provides, you need a service truck that's affordable, dependable, and functional. Find out how Teamco's service truck bodies can help you do your day to day field service.
10 Gauge Galvanneal Cabinet Construction — All outer panels, cabinet floors, cabinet dividers, and doors are made from 10 Gauge Galvanneal Steel. The cabinet tops, backs, and center deck area utilize industrial diamond plating for extra durability and wear protection.
10 Gauge Galvanneal Single Panel Door Construction with Stiffeners — This design helps to prevent corrosion that can often begin inside the inner-panel areas found in double panel door designs.
Smooth Body Design with Internal Concealed Door Hinges.
All the major compartments are pressurized to help keep the dust out of compartments and have automotive type weather stripping.
Three point positive latches all keyed alike are used on the doors.
Each unit is provided with TEAMCO's exclusive "Gang Lock" for additional tool protection. All major compartments on both sides are locked from one location, near the driver's door.
Large Outrigger Pads.
LED Cabinet Strip Lighting.
Fully Interlocked Sub-Frame — Feterl's sub-frame design utilizes interlocking members simultaneously increasing frame strength and allowing a lower center deck height which increases vital available storage capacity.
An Isolated Crane Tower — This design isolates the Crane Tower and Outrigger structures from the cabinet section of the body minimizing stress cracking that can occur in designs where the crane is mounted directly to the cabinet top.
Heavy Duty Crane Meeting the Highest Requirements In The Industry — Our heavy-duty cranes ensure added safety, durability, and increased service life. In addition, our Outrigger structure meets this standard as well. We challenge anyone to compare our cranes and Outriggers to our competition! (Model 8000, 10, 000 & 14, 000)
Standard Power-Out Outrigger — Models 10, 000, and 14, 000 feature a standard hydraulic extend outrigger on the crane side. This prevents a "sticky" outrigger and increases safety and likelihood of mechanic properly extending the outrigger prior to crane use. (Model 8000, 10, 000 & 14, 000)
Turn-Key Truck Program — Feterl Service Bodies can provide a complete turn-key truck built to a customers exacting specifications with all necessary equipment installed to allow the Mechanics Truck to immediately enter service upon delivery. This includes compressors, welders/generators, lubrication systems, etc.
Share this article
Related Posts