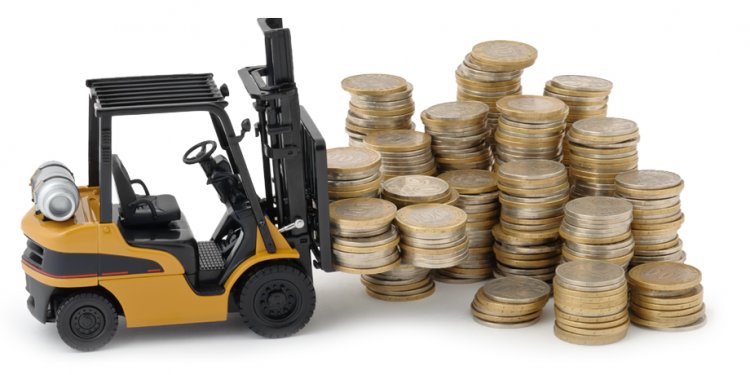 Materials Handling Equipment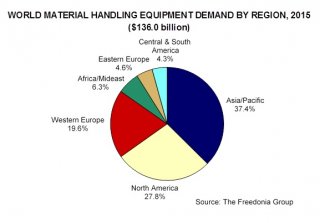 By Josh Bond, Contributing Editor ·
A new study projecting global demand for material handling equipment suggests China will account for nearly two thirds of all new demand through 2020.
Mature markets like the United States, Japan and Western Europe are expected to see restrained growth over the same period as compared to developing countries. Global demand for material handling equipment is forecast to rise 5.3% per year through 2020 to $176.0 billion.
Automated storage and retrieval systems (ASRS) and automated guided vehicle (AGV) equipment are forecast to register faster demand gains than all other product types. According to the study, as industrial enterprises around the world adopt advanced manufacturing techniques, build new factories and warehouses, and upgrade existing facilities, they will purchase new ASRS and AGVs because they offer efficiency and productivity gains and reduce labor costs. Logistics and transportation firms will also increase spending on these products, the study predicts, to satisfy growing demand for their services and boost the efficiency of their operations.
"The rise of AGVs and ASRS is an interesting, multi-faceted phenomenon, " said Gleb Mytko, global industry analyst for The Freedonia Group. "In the mature markets of North America and Western Europe, there is a more cyclical nature to sales of these machines due to replacement product demand. Developing nations, on the other hand, are experiencing a more steady rise in new demand for AGVs and ASRS."
Since the last time the firm conducted this study, Mytko said the global landscape has changed significantly.
"In terms of predictions, it is hard to compare the numbers in this current edition to the figures from its predecessor because so much has changed, " he wrote in a recent statement. "For instance, economic conditions worsened in Western Europe between 2013 and 2015, which has a profound impact on our projections. The recovery is expected to occur at a later date now than anticipated two years ago."
Mytko says the North American share of the materials handling equipment market grew somewhat between 2013 and 2015 because of improving economic conditions and rising industrial output.
"By contrast, the West European share of the global market for material handling machinery declined significantly during this time because of ongoing economic turmoil in multiple countries, " Mytko said. "Manufacturing activity in Western Europe advanced at a subpar pace during these years and this negatively affected the financial resources of durable and nondurable goods suppliers, liming investment expenditures."
Similarly, Central and South American materials handling markets performed poorly because of political and economic turmoil, and Eastern Europe also saw economic growth stagnate and only slight gains in manufacturing activity.
The Asia-Pacific and Africa/Mideast material handling markets performed well during this time, Mytko said, supported by favorable economic conditions, rising durable and nondurable goods shipments, and inflows of foreign capital. Many new factories came online during the 2013-2015 period and a large number of existing facilities were expanded and modernized, generating product demand, he said.
"The rate at which many manufacturers in developing countries have adopted newer material handling technologies is quite impressive, " Mytko added. "Industrial enterprises in Asia/Pacific, Africa/Mideast, and Central and South American nations face stiff competition from producers at home, in other regional countries, and beyond. As a result, they tend to upgrade existing manufacturing facilities and adopt new production technologies regularly. While many manufacturers in developing areas still cannot afford the state-of-the-art models, they are using automated machinery to a greater extent than before. This allows them to both increase output and operational efficiency, thereby making themselves more competitive globally."
In Japan, the United States and Western Europe, sales of material handling machinery will climb at a somewhat more restrained pace during the 2015-2020 period, spurred largely by replacement product demand. A variety of factors impact material handling replacement patterns in developed countries, including the overall economic environment, access to financing, and the development of new, technologically advanced models that offer efficiency and productivity advantages. Most mature markets will see sales conditions improve through 2020, Mytko said, although they are generally projected to register slower growth than their industrializing counterparts. Additional government spending on public infrastructure, growth in logistics and transportation industries, and the adoption of new material handling technologies will contribute to gains in many mature markets.
Share this article
Related Posts