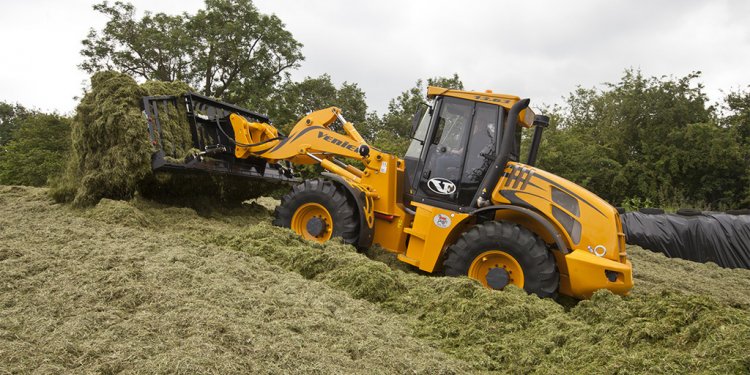 Wheeled Loaders

DL200TC-5
Tool carrier with parallel-lift linkage system and hydrostatic transmission.
142.1 hp @ 2, 200 rpm Engine
26, 224 lb. Operating Weight
8 ft. 9 in. Dump Height
21, 357 lbf. Breakout Force
Learn More
DL220-5
A nimble, yet strong machine with many fuel-saving features
159.6 hp Engine
27, 381 lb. Operating Weight
9 ft. 3 in. Dump Height
22, 705 lb. ft. Breakout Force
Learn More
DL250-5
Excels in crowded jobsites, while offering impressive load capacity.
Tier 4 Emissions Tier
171 hp Engine
30, 115 lb. Operating Weight
9 ft. 2 in. Dumping Height
Learn More
DL250TC-5
Tool carrier that's built for a wide-variety of heavy-lifting tasks.
31, 592 lb. Operating Weight
9 ft. Dumping Height
Learn More
DL300-5
Recognizable loading power driven by a fuel-efficient engine.
270.9 hp Engine
41, 844 lb. Operating Weight
9 ft. 4 in. Dump Height
37, 767 lb. ft. Breakout Force
Learn More
DL350-5
Lift loads higher with an industry-leading dump height of 10 ft.
43, 541 lb. Operating Weight
9 ft. 11in. Dump Height
37, 093 lb. ft. Breakout Force
Learn More
DL420-5
Exceptional durability, excellent fuel efficiency and consistent results.
344.6 hp Engine
50, 398 lb. Operating Weight
10 ft. 1in. Dump Height
47, 209 lb. ft Breakout Force
Learn More
DL450-5
Handles tough materials and moves larger loads.
56, 527 lb. Operating Weight
10 ft. 7 in. Dump Height
51, 930 lb. ft. Breakout Force
Learn More
DL550-5
Handles tough materials and moves larger loads.
379.5 hp Engine
69, 655 lb. Operating Weight
11 ft. 2 in. Dump Height
55, 527 lb. ft. Breakout Force
Learn More

Doosan Wheel Loaders Are Ready To Do Your Heavy Lifting
With tremendous lift height and capacity, Doosan wheel loaders go a step beyond scooping, carrying and loading. Outstanding horsepower, torque, traction and pushing power provide the best performance in any operating situation while efficient Tier 4 engines reduce fuel costs. With a full line of machines with higher capacities, faster cycle times and unmatched power, you'll find the right machine to tackle any job.
Tier 4 Technology
To meet strict emissions standards, Doosan takes a systems-based clean diesel approach: internal engine modifications and after-treatment technologies. Each model incorporates proven technologies without compromising the performance, reliability and durability you've come to expect. To learn more about emissions strategy and technologies, view Doosan Tier 4 resources.
More Work. Less Fuel.
Keeping your fuel costs low directly impacts your bottom line. It also means you'll spend more time working and less time fueling. In our fuel efficiency tests against equivalent machines from other manufacturers, the Doosan wheel loader consistently moved more material per gallon of fuel. Efficiency is also aided with auto idle, which automatically reduces engine speed from when machine functions aren't being used. Additionally, auto-shutdown helps save fuel and reduce unnecessary noise by shutting down the machine's engine after a set period of inactivity.
Faster Cycle Times
A perfect balance of speed and control on Doosan wheel loaders ensures you get the most out of your operating time. Hydraulic pumps optimized for each machine give you maximum power when you need it most. Vane pumps on smaller models and variable displacement piston pumps on larger models deliver the right amount of power to the lift arm and bucket when you need it. Most models feature "return to dig, " which returns the cylinders and cutting edge to the same position every time.
Outstanding Capacities
Tremendous lift heights and bucket capacities in each machine let you power through the heaviest loads. The Z-bar lift arm minimizes spillage and provides precise positioning no matter where you need to dump material. Unload sticky or wet materials with the rapid bucket dump capabilities and ensure gradual, precise control with the load sensitive control system.

Raw Power When You Need It Most
With a powershift transmission and models ranging from 160 hp to 380 hp, each machine provides ample power and outstanding traction in various working conditions. Choose manual mode for more control or automatic mode for easier operation. Select models feature a semi-automatic mode too. Additionally, four forward speeds and three reverse speeds enable you to pick the best speed for any application.
Most machines include three power modes for additional control:
• Economy Mode: Minimizes fuel use and engine sound levels in load and carry operations
• Power Mode: Delivers the highest level of performance during demanding tasks
• Normal Mode: Provides optimized fuel consumption for general work (only on select models)
Limited slip differentials on both the rear axles allow Doosan machines to tackle the toughest terrian, delivering powerful pushing force and providing superior penetration into the hardest materials. An optional hydraulic locking differential locks the front left and right wheels together, providing superior traction for driving over loose, slippery terrain or pushing into big, heavy piles (standard on select models).
Doosan Wheel Loaders Provide Superior Reliabilty
Marking a durable and reliable machine isn't just a smart idea - it's a requirement. Doosan wheel loaders are built with solid construction, heavy-duty components and extended service intervals. And when you do need to complete routine maintenance, components are easy to access. It's no wonder Doosan wheel loaders are among the toughest and most dependable machines in the industry.
Doosan Telematics
Doosan Telematics provides machine intelligence from a device that comes standard on most Doosan machines. The device communicates wirelessly through cellular or satellite communication, making a wide range of machine information available to owners, dealers, and Doosan. Machine information can be viewed via the CoreTMS website from a computer or smartphone. Available information includes fleet status, machine location, operating hours, fuel usage, engine idle vs work time, error codes, engine/hydraulic oil temperature and various other data points. Monitor your Doosan equipment and manage maintenance to reduce operating costs. A three-year subscription is standard on all excavator models. Learn more about Doosan Telematics.
Quality Components
A tough machine starts with strong components. That's why Doosan wheel loaders are crafted with rigid steel frames and lift arm plates that stand up to years of difficult work. Formed metal access panels and fenders protect critical engine, hydraulic and electrical components.
Machines also feature double roller bearings in the articulation joint, higher-quality pins and bushings and an oversized center driveline bearing. Metal-reinforced brake discs ensure extended life and reduced maintenance. Tilt cylinder hydraulic hoses have been rerouted for improved hose reliability, better hose movement and improved visibility to the attachment. Options include a diesel heater and frost plug (block) heater to improve starting.
Efficient Cooling System
Staying cool under pressure is only the beginning. Doosan wheel loaders feature an all-aluminum reversible fan cooling system. Rubber mounts reduce vibration while the reversible motor keeps the cooling system clean. Reverse the fan manually using a switch inside the cab or set it to automatically reverse on preset intervals. An optional axle cooler on slect models prevents the oil temperature from rising to dangerously high levels in long haul or tough digging applications.
Easy Maintenance
Your maintenance should be on the jobsite - not in the shop. That's why regular maintenance is quick and easy on Doosan wheel loaders. Convenient checkpoints, extended service intervals and high quality components mean you'll spend less time and money on upkeep. When you do need to complete service, you'll enjoy ground-level access to grease points and key maintenance points.
Easily reach hydraulic test points, oil sampling ports, and engine and coolant drains. Longer service intervals and automatic features ensure your machine stays in the field longer before servicing too. For instance, the front lift arm pins ony need to be serviced every 250 hours. An optional automatic greasing system lubricates the machine at timed intervals.




Share this article
Related Posts