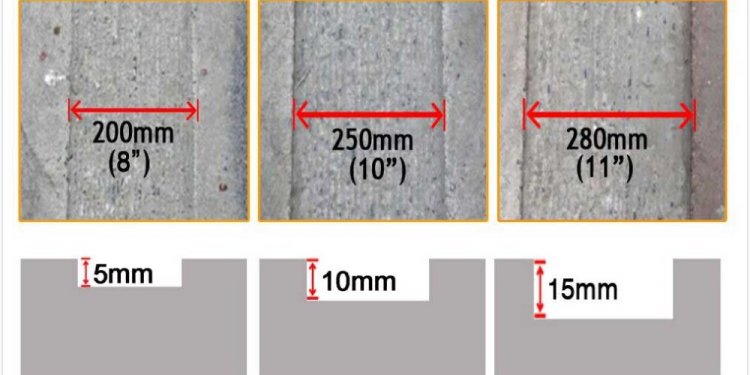 Walk Behind asphalt milling machine
RoadHog hydraulic cold planers offer high production at a substantially lower cost of small, dedicated milling machines. These machines are widely used around the US and abroad by paving contractors and municipalities alike for small milling projects, which include pothole repair of city streets, removing failed pavement and milling curb lines prior to overlay.
Utility and pipe contractors also use them to open trenches prior to repairing or replacing gas, water or sewer lines at a lower cost per foot versus a walk behind saw. Another advantage of using a RoadHog in this application is that each side of the trench is cut simultaneously while the pavement is recycled on site thus eliminating the need to load and truck the material to be recycled elsewhere at a fee. The savings in labor and fuel along with the material, which can be used immediately for backfill, will directly impact job profits.
RoadHog cold planers are offered in cutting widths of 12 inches up to 48 inches. The 12 and 16-inch wide standard flow models operate on the skid steers auxiliary hydraulic system and offer a cutting depth of 5 inches. Depth and tilt control are manual, while sideshift is hydraulically controlled. Those customers that may not have a high volume milling or own a high flow skid steer, which is required for larger cold planers with additional features, favor these units.
High flow skid steer RoadHog cold planers are offered in cutting widths of 16, 18, 24, 30, 40 and 48-inches. All feature planetary reduction drives, which efficiently provides maximum cutting torque under load. RoadHog can meet your milling needs no matter the make & model of skid steer owned. High flow cold planers can be specified for 3-Line, single circuit operation or 5-Line, dual circuit operation. Either way, all units come with electro-hydraulic control of depth, sideshift and tilt. This electro-hydraulic control is accomplished through the joysticks of the skid steer, a magnetic box or by RoadHog's exclusive wireless remote control option.
Share this article
Related Posts