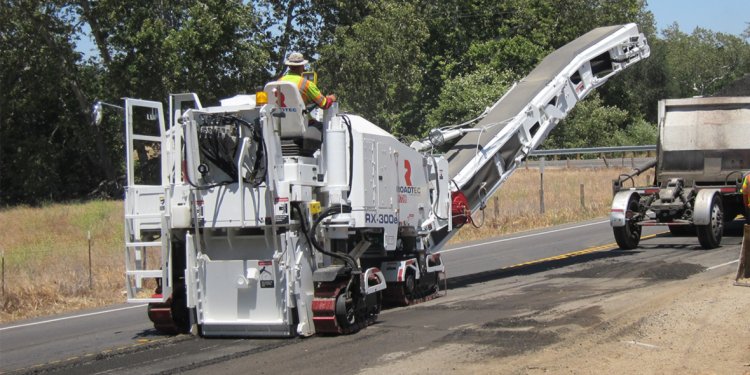 Asphalt milling machines
We own and operate the largest fleet of milling machines in the Southeast. Some of the many features of our milling machines include:
6 Asphalt Milling Machines
Horse Power Range: 600 hp – 1, 200 hp
Cutter Width Range: 2.0', 3.0', 4.0', 6'6", 7'3", 8.0', 12.0', 12'6", 15'
Cutter Depth Range: 0" – 16.0"
All machines have automated grade and slope controls
5 Full Lane Cutter Drums; two of them almost always available
3 Full Lane Surface Planing Cutter Drums
Pave Smart Compatible Milling Machines
Moba Smooth Mill System
Level Pro
MICRO MILLING IN THE SOUTHEAST
Micro Milling has become the "next generation" of milling and profiling for interstate and primary roadways. Micro milling is an extremely tight pattern used today to increase the smoothness of the milled surface as well as create a product that can accept thinner overlays. In addition, it can put the cross slope back in the pavement as it cuts.
Micro Milling is the future for road re-paving projects, and at PP&S, we have the expertise and the machinery to cover any size and any spec project. As a matter of fact, we are the LARGEST micro milling service provider in the SOUTHEAST.
CLEAN-UP CAPABILITIES
In 2005, we decided that clean-up was an integral part of the success of our milling operation, and that we needed to improve on its performance—so we did. We purchased over a million dollars worth of brooms, pickup brooms, skid steers, mini-mills, etc. and built a clean-up division that has the same qualities as our milling operations: customer service and superior quality. Our clean-up division consists of:
10 Power Brooms
8 Pick Up Brooms
6 Mini Mills for Trimming
2 Elgin Sweeper Trucks
MK-1 Broom Sweeper with Loadout
SPECIAL MILLING SERVICES
We have had the fortune of learning all of the capabilities of a milling machine mostly due to the stringent specifications that the SC, NC, GA, and FL DOT repaving projects require us to meet. As a part of the specification, we are required to level the longitudinal roadway, and correct the cross-slope as we mill.
Share this article
Related Posts