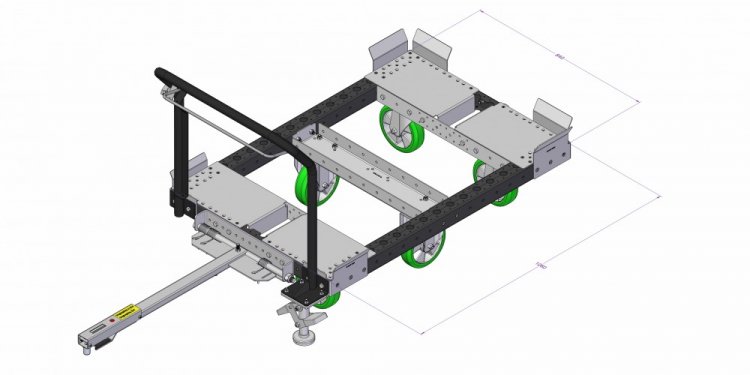 Tuggers Material Handling

By Sara Pearson Specter ·
Manufacturing facilities are continuously looking to get lean while meeting the increasing expectations of consumers for mass customization of products. Couple those challenges with an aging workforce and—in many parts of the country—a difficulty attracting and retaining qualified workers, the resulting solution for some companies has been the implementation of a designed lean material flow system.
The key to those systems, according to Larry Tyler, vice president of sales and marketing for K-Tec/Kinetic Technologies, is the reduction of a facility's current fleet of fork trucks by replacing some of them with tugger and cart systems. "A fork truck is a vital component of a complete materials handling system: It's not the bad guy, " Tyler says. "It's just one way to move materials, and as long as 15 years ago, fork trucks were the most efficient way."
Today, however, tuggers and carts have evolved to the point where they can be flexibly engineered to support some, or all, of a facility's handling needs. Both manned and unmanned tuggers work with powered and non-powered carts in a virtually limitless range of configurations. Their features and flexibility allow these systems to address production complexities previously only handled by fork trucks. In turn, fork trucks can be limited to the perimeter of a facility—for shipping and receiving, and for inventory placement into and out of racks—to increase the safety of personnel in the area.
In manufacturing, tugger and cart systems replace one-load-at-a-time deliveries by fork trucks to the production floor by acting as trains, or a linked series of multiple carts, carrying multiple loads in one trip. The carts themselves may be loaded by a fork truck, but a tugger handles the deliveries. Unlike a fork truck, automatic guided vehicle (AGV) style tugs travel along a pre-determined route and at a limited speed, while manned-style driven tug operators have greater visibility because the loads trail behind instead of riding on elevated forks in front of the driver.
Share this article
Related Posts