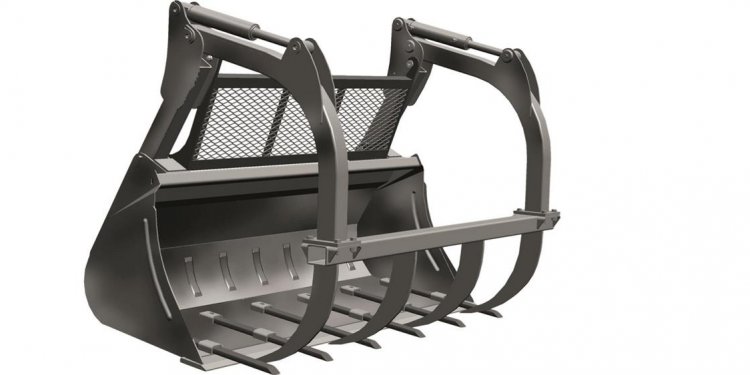 John Deere Front Loader Attachments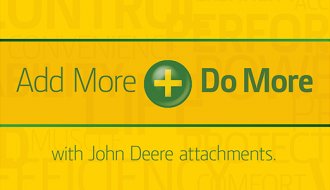 / / / Add More, Do More Attachment Videos
Get the most out of your equipment with John Deere attachments.
Take your tractor to a whole new level with interior and exterior attachments. Get the results you want with smart, total John Deere solutions for crop care. And whether you're working hard or having fun, you can get more out of your Gator™ with just a few key attachments.
Available for mounting monitors, phones, radios, and other accessories in one convenient location.

Keep drinks cold or food hot. The refrigerator/warmer is perfect for long days in the field, and it fits conveniently next to your seat.

With loads of capacity, two removable shelves and innovative front door and lid design, this utility box breaks new ground for convenience and versatility.

LED lights last more than 50 times longer than sealed-beam halogens and consume up to 75% less energy.
Reduce the time it takes to hook up your implements and add more convenience. Built from tubular, box-welded steel for more durability, these quick hitches help you secure implements with ease.

Rear Hydraulic Kit

Expand the functionality of your tractor and bring more versatility to your operation with a rear hydraulic kit. The rear hydraulic outlet kit routes hydraulic power from dual mid Selective Control Valves (SCVs) to two sets of couplers at the rear of the tractor.

Illuminate your rear implements and increase visibility while working in hard-to-see places or long after sunset. These bright lights deliver just the right amount of light so you can work more efficiently wherever additional light is needed.
These 42-lb (19-kg) cast-iron weights can be used to counterbalance a heavy front or rear attachment, and/or provide greater stability, especially when operating on hills.

Improve overall stability and loader performance by adding the correct ballast to your tractor. For even more capacity, add a ballast-box extension.

Add more protection, and shield your tractor and implements from harmful damage caused by rocks and other field debris, with these fenders.

Electrohydraulic Spool-Type Selective Control Valve

Add more productivity and versatility by attaching a third Selective Control Valve (SCV). Whether your job needs a grapple bucket, 4-in-1 bucket, or hydraulic angle front blade, this kit can make it happen.

Provides two additional hydraulic spool-type selective control valves. The EH feature provides a smoother and quicker response to the operator's movements, and can be installed with or without a loader.

Provide live hydraulic power to your implements that have an open-center control valve. This kit is required for installing a backhoe on your tractor.
Add more muscle and versatility by equipping your tractor with a mid PTO. Ideal for running implements such as a mid-mount mower or front-mounted snow blower.

Keep you and your operator station free of unwanted dirt and debris.

Redirect exhaust away from the operator's station.

Prevent your warning lights from being broken or scratched with this kit. Ideal when working near low-hanging trees or woody vegetation.

Add more visibility to front loader or implement work. Includes two lights and all the components you'll need for fast, easy installation.

Protect yourself from the sun's intense rays and inclement weather with a durable canopy. Simply attach the canopy to your ROPS, adjust the front/aft height levels, and you're ready to go.

Tire Chains

Add traction to your tires when conditions get tough.
Smart Solutions For Better Baling

Make your John Deere Baler even more productive with attachments available from your John Deere dealer.

Watch baler video Watch baler video
HD XUV/HPX Deluxe Cab Kit

Protects you from the elements while maintaining excellent visibility. Comes with a built-in windshield wiper.

Cab Heater

High-output, two-speed heater keeps cab warm and comes with windshield defroster for increased visibility.

Order Cab Heater

Beacon Light

Makes you more visible to others in inclement weather.

Order Beacon Light

Side Mirrors

Improve backing ability, and can tuck away for easy storage.

Order Side Mirrors
Share this article
Related Posts