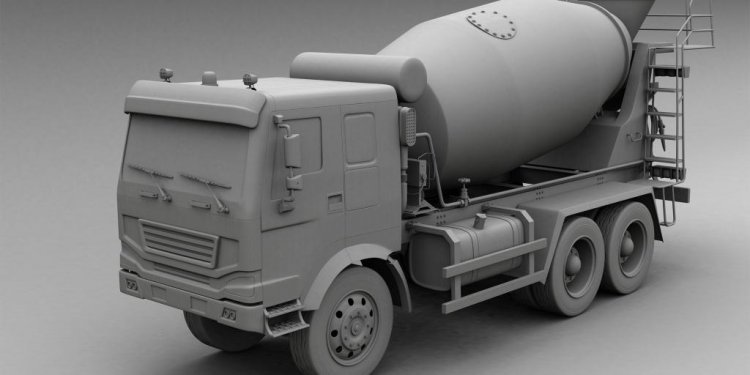 Concrete mixture truck
There are 2 basic mixes: 1″ rock or gravel which is usually dumped out of the back of the truck and 3/8″ rock, commonly called pea gravel, which is usually pumped.
WHAT STRENGTH DO I NEED FOR MY PROJECT?
You will have to determine the strength of the concrete that you need. The minimum strength we deliver is 2000 psi, which is typical for non-load bearing items as patios, walkways, footings and wall grout. A typical driveway could be 2500 psi for passenger cars or 3000 psi for SUV's, trucks or motor homes. Concrete used in any part of a house should conform to the UBC. Local laws and ordinances should be obeyed. Find out if your city has any conditions (i.e. sulfates in soil) that may affect the life of your concrete.
HOW MANY YARDS DO I NEED?
HOW DO I DECIDE IF I NEED A PUMP OR NOT?
You have 3 choices for getting the concrete from the ready-mix truck to your project:
Place it using the truck's chutes, which extend about 12′ from the back of the truck (you will need about 14′ clearance and about 12′ width for the truck)
Pump it using a pea gravel pump (we can arrange at separate cost)
If there is not room for a ready-mix truck to get within 12′ of your project, you will need to pump it or wheelbarrow it. If you decide to wheelbarrow, keep in mind that one yard of concrete weighs about 4, 000 pounds and that you will probably incur some standing time. If our truck crosses your property line, you will have to sign a waiver which means that we are not liable if the weight of the truck cracks your driveway or sidewalk.
WHAT CAN I DO TO PREVENT CRACKING?
Concrete shrinks during the hydration process and has a tendency to crack, especially pea gravel mixes due to their high water content. This is called shrinkage cracking. The least expensive product for reducing plastic shrinkage cracking is stealth fibers. Millions of tiny fibers are added at the time of batching. These fibers reduce plastic shrinkage cracking and improve durability, among other things. Go to for more information.
DO YOU FORM AND FINISH THE CONCRETE?
No, we are a ready-mix supplier. You or your concrete contractor get the job ready. Our truck delivers the concrete and your workers do the rest.
HOW MUCH IS A YARD OF CONCRETE?
The pricing of a yard of concrete can vary depending on the region you are in as well as the type of mix that you choose for your project. Call our staff at 1-800-PRE-MIXX and we would be happy to help you find the best mix with a great price so that you will have the best results for your project.
WHAT STRENGTH OF CONCRETE DO I NEED?
It will depend on the requirements for your project. We would be happy to assist you in helping you decide which mix will work best for your project. Obey your local building codes or architect plans, if any. We can help you with general information only.
DO YOU HAVE PUMPS /HOW FAR CAN YOU PUMP?
We can coordinate a pump for you upon request. Most pumpers carry a 200 foot pump. If you need beyond 200 feet, you can request more hose and an additional charge will apply beyond the original pump. Please note that you will need to let us know if you plan on pumping beyond 200 feet as we may need to add additional cement, so that it will travel through the longer hose properly.
DO YOU HAVE THOSE ONE YARD TRAILERS FILLED WITH CONCRETE?
No, but we can deliver as little as one yard in our mixer and at a competitive price. You will also save the hassle of having to tow, clean, and return the truck.
WHAT IS THE MOST /LEAST YOU CARRY IN A TRUCK?
We can usually carry between 1 yard and 10 yards, depending on the mix and area we are delivering to. Any loads under 9 yards will have a short load charge which is based on the amount you order. The more you take, the less the charge.
HOW DO I ORDER CONCRETE?
Call 1-800-PRE-MIXX
Tell us how many cubic yards you would like to order
Tell us the date and time you would prefer the concrete be delivered
Tell us what mix of concrete you would like
If you have any questions, we would be happy to assist you.
WHAT IS GREEN BUILDING?
We can provide a variety of LEED certified mixes to help you achieve your LEED goals. Being green is very important to us, so we are in the process of migrating our fleet of trucks to low emission vehicles as well have been following the state of California's carb requirements. We can also use reclaimed water and recycled concrete to provide a greener product. If you choose to, we can provide pervious concrete, which helps cut down on storm water runoff. This has been increasingly popular for helping aquifers. Concrete can also be beneficial in reflectivity to lessen the demand for lighting requirements.
WHAT IS CONCRETE MADE FROM?
Concrete is made from cement, rock, sand, water, and can also contain flyash and a variety of admixtures all mixed into proper proportions suitable for your project.
Share this article
Related Posts