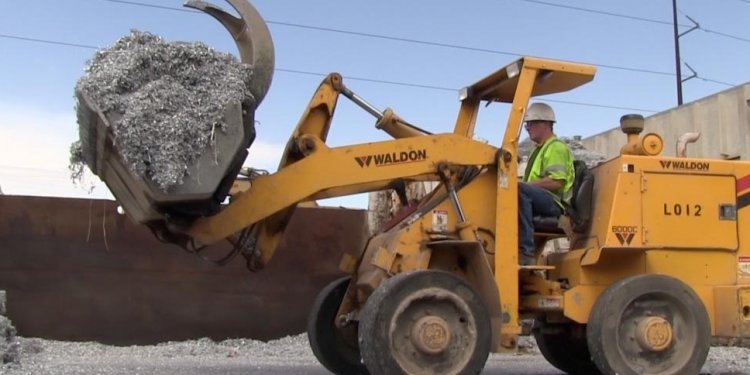 WALDON Wheel Loaders
This subcompact half-yard loader has super agile 45 degree articulated steering and 22 degree rear axle oscilation that allows it do tough jobs in tight places without tire or floor damage caused by skid-steer loaders. This ultra-low clearance machine is ideal for jobs with close quarters. Despite it's minimalist design the 4500B is built just as rugged as the rest of its big brothers so it can handle harsh conditions and abusive environments like a champ.
5100: This loader offers a popular 5/8 yard bucket capacity coupled with a powerful breakout force of 5, 000 lbs designed for plant maintenance, heavy material handling, and a variety of heavy industrial and construction applications. In addition its optional clean exhaust, efficient propane engine, make it perfect for indoor applications. Its versatility and relatively low cost have made it a popular and widely used loader across many industries.
At a standing height of only 7 ft. 6 1/2 in. tall the one yard capacity 6000C is designed to provide a totally integrated tractor/attachment unit for a variety of specialized uses. The machine has hydrostatic four-wheel drive and planetary outboard hubs for a superior power and capacity-to-size ratio. If your application calls for moving large loads quickly, smoothly and efficiently, in restricted quarters, the Waldon 6000C is without a doubt an excellent choice.
With a dump clearance of 105 in. and a breakout force of 9, 000 lbs the 7000 is the second largest machine in the Waldon line. Despite its powerful capabilities and extended wheel base the 7000 is still just over 5 ft wide enabling it to do big things in small spaces. Added features include a three-speed automatic transmission with manual override, extended wheel base, extra heavy duty frame, and larger operator compartment with suspension seat.
This is most compact and powerful loader of its capacity available. It is designed for severe duty use in heavy industry, agriculture, construction, landscaping and other applications where a combination of maneuverability, flexibility and power is of utmost importance. With a turbocharged Cummins QSB 4.5 four-cylinder engine powering the 8500C a drawbar pull of 12, 000 lbs., and a top forward speed of 12 mph this machine is more than just impressive. It's Waldon impressive.
Share this article
Related Posts