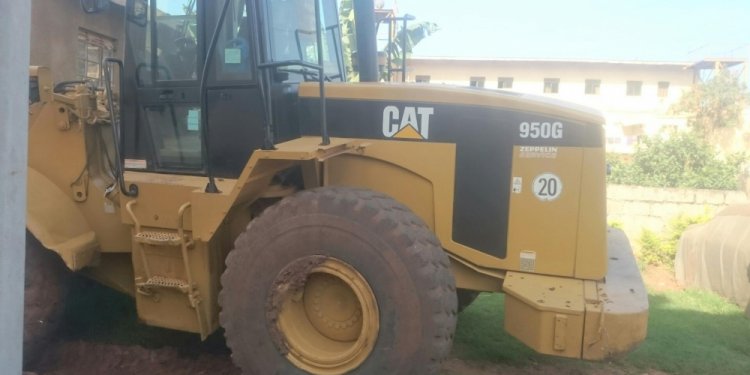 Cat Wheel Loader 950
Work Smart and Move More.
Transmission
The legendary Cat planetary power shift transmission is updated with new shift logic. The downshift from 2 to 1 forward is now based upon torque requirements versus ground speed. This enables operators to use the fully automatic 1-4 mode which saves fuel and improves productivity and comfort. Speed shifts, both up shifts and downshifts have been dramatically improved for improved acceleration, speed on ramps and operator comfort.
Load Sensing Hydraulics
The 950H features a load sensing hydraulic system that automatically adjusts to operating conditions to provide only the hydraulic flow required by the implement for improved fuel efficiency. A new hydraulic valve has been implemented providing improved service access and machine weight distribution. Operators will notice enhanced ease of operation, more rimpull into the pile and an increase in lift force.
Constant Net Horsepower
The Cat C7 engine is electronically configured to provide constant net horsepower at full parasitic load, enhancing productivity and improving fuel efficiency.
On-Demand Fan
With electronic control of the variable speed on-demand fan, temperature levels of the engine coolant, transmission oil, hydraulic oil and air inlet manifold are constantly monitored. This data is used to control and maintain fan speed at the level necessary to maintain normal system temperatures. Controlled fan speed improves fuel efficiency, lowers noise levels and reduces radiator plugging.
Ride Control
The optional Ride Control System improves ride, performance and load retention when traveling over rough terrain. Operators gain confidence moving at higher speeds in load and carry operations decreasing cycle times and increasing productivity. Ride Control also reduces loads induced by travel over rough terrain and can extend the life of structures and drive line components.
Engine Idle Management System
The Engine Idle Management System (EIMS) maximizes fuel efficiency by reducing engine rpm after a selected amount of time. This gives customers flexibility in managing idle speeds for specific application requirements. Four idle control rpm levels are available.
Engine Idle Shutdown
The Engine Idle Shutdown feature automatically shuts down the engine after the machine has been idling for a predetermined amount of time. This saves you fuel and reduces hour accumulation on your machine.
Share this article
Related Posts