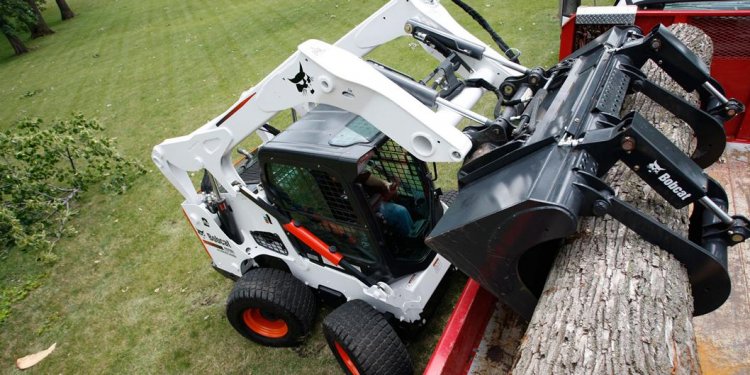 Bobcat Wheel Loaders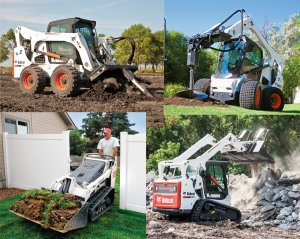 Not that long ago, choices were limited when it came to jobsite tools. You might have had a shovel or a very large loader to choose from, but nothing much in between. Today, though, there's a wide selection of innovative compact equipment that serves a variety of purposes and adds efficiency to construction projects. And whether you're in the process of searching for a new purchase or trying to match an existing machine to a particular project, there are a few things to keep in mind.
Get familiar with the different types of loaders.
There are four different types of loaders; each designed to provide varying levels of power, lifting capacity and mobility.
Mini track loader – Because of its small size and agility, this track loader can go where others can't, and offers minimal ground disturbance. It is also easy to load and transport.
Skid-steer loader – As the name implies, this loader's wheels function independently from the right side to left side, giving it increased maneuverability through a skidding motion. The addition of an enclosed cab offers improved comfort with heat and air conditioning.
All-wheel steer loader – First cousin of the skid-steer, the all-wheel steer loader is perfect for jobs requiring minimal ground disturbance. These loaders use all four tires to steer, and in some cases offer skid-steer capabilities for even more versatility.
Compact track loader – A loader with rubber tracks offers low ground pressure and significant increases in mobility on soft, muddy and unpaved conditions. As with the skid-steer and all-wheel steer loaders, comfort cab options are available.
Think about the typical work conditions.
Skid-steer and all-wheel steer loaders, because of their tires, have an advantage when it comes to mobility and wear on paved surfaces, making them the preferred choice for most demolition, renovation and snow removal applications.
Because of their increased contact area with the ground and superior traction, compact track loaders will dig and load more material in the same amount of time compared to their wheeled counterparts. When it comes soft, sandy ground or wet and muddy jobsites in most of North America, compact track loaders can add productivity and days or months to a typical contractor's working year.
Figure our your lifting and digging needs.
When it comes to lift arm design, most manufacturers offer a choice between loaders with a radius or vertical lift path.
Radius lift path – The load is raised in an arc that provides maximum reach at truck bed height. Radius lift path machines excel at jobs with mid-range or lower working heights (dumping materials over a wall, backfilling, or loading and unloading flatbed trucks, leveling and grading materials).
Vertical lift path – These loaders give a higher lift capacity and more reach at full lift height than a radius lift path machine. The balance of height and reach makes vertical lift path loaders great for clearing high-sided trucks and hoppers.
Compare cost of ownership.
If your work frequently takes you to existing developments or paved/improved surfaces, skid-steer loaders are your best choice. Not only do they offer a lower initial cost for the same size machine than compact track loaders, they also have lower long-term ownership costs. Under proper operation, rubber tracks tend to last about twice as long as tires, but are considerably more expensive.
Tires – The average tire life under normal conditions is around 600 to 800 hours. You can expect to pay between $600 and $1, 200 for a set depending on the brand and type. Tire life can be prolonged — reducing cost-per-hour ownership — in more abrasive conditions with severe-duty or solid rubber tires, which can range from $3, 200 to $3, 600 per set.
Tracks – Rubber tracks for a like-sized loader range from $2, 500 to $4, 000 per pair. Expect to get 1, 200 to 1, 600 hours of use out of a pair for general-purpose, general-use machines on hard ground. Loader tracks used mostly on soft dirt or soft clay can surpass 2, 000 hours, where daily operation on hard pavement can cut the lifespan down to 400 to 800 hours.
Evaluate utilization.
Utilization — how you put your machine to work — is key with any compact loader, because the more you use it to fit your job applications and the more attachments you can put on it to handle a variety of jobs, the faster you'll see a return on investment.
An advantage of owning the three types of compact loaders is that with the purchase or rental of several different attachments, your business can build a better utilization rate compared to operating and maintaining several different pieces of dedicated equipment.
In the construction sector, there are many attachments available to increase your ROI, but here are just a few:
Auger
Breaker
Broom
Bucket
Clamp
Grapple
Plate compactor
Trencher
Wheel saw
Understanding the ins and outs of compact loaders — as well as the features and attachments best suited for you — can help you narrow down your choices and tailor a machine to your specific needs.
Share this article
Related Posts