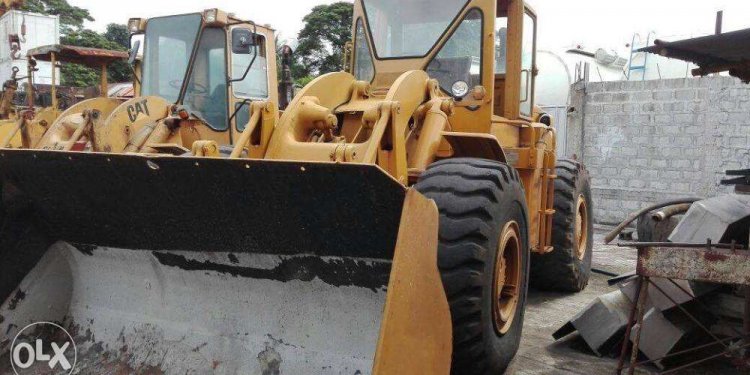 966C Wheel Loader
Free specifications for all classes of equipment
Caterpillar 966CCaterpillar 966CCaterpillar 966C interiorThe was introduced in 1967 in the USA as a replacement for the Caterpillar 966B. Production began in Canada and Belgium in 1968, Japan and Brazil in 1971, and Mexico in 1986.
Features
The 966C has a D333cT six-cylinder engine producing 170 flywheel horsepower (FWHP), the 3306T engine replaced the D333cT in 1973. It has a four-speed powershift transmission with four-wheel drive. It comes standard with electric start and air brakes.
The 966C was manufactured in the USA, with a 76J serial number prefix; in Canada, with a 30K prefix; in Belgium, with a 42J prefix; in Japan, with a 78G prefix; in Brazil, with a 25U or 18B prefix; and in Mexico, with a 9KC prefix.
Modifications
In 1974 Cat added a sleeve metering fuel system, beginning with 76J07946, 78G01605, and 25U01186.
In 1976 flow amplified steering was added, beginning with 76J10063, 30K02449, 42J06674, and 78G02608.
In 1977 an interim scroll fuel system (ISFS) was added to the Japanese unit, beginning with 78G02871.
In 1978 a water separator was added to the Canadian unit, beginning with 30K02980.
In 1980 a redesigned bumper and rear-mounted batteries were added to the Belgian unit, beginning with 42J10672.
Production ended in the USA in 1980, and Belgian and Japan in 1981.
In 1984 a new planetary transmission was added to the 18B unit, beginning with 18B0376.
Production of the 25U unit ended in 1984.
In 1986 a scroll fuel injection system was added to the 18B unit, beginning with 18B00596.
Production ended in Mexico in 1988 and Brazil in 1994.
Caterpillar offered a certified rebuild program with this model. Units beginning with the following serial number run were certified rebuilds: 76J75000, 30K75000, 42J75000, 78G75000, 25U75000, 18B75000, and 9KC75000.
Highest Serial #
Belgium
42J
13295
Brazil
18B
01409
25U
03949
Canada
30K
03705
Japan
78G
05315
Mexico
9KC
N/A
USA
76J
16276
Share this article
Related Posts