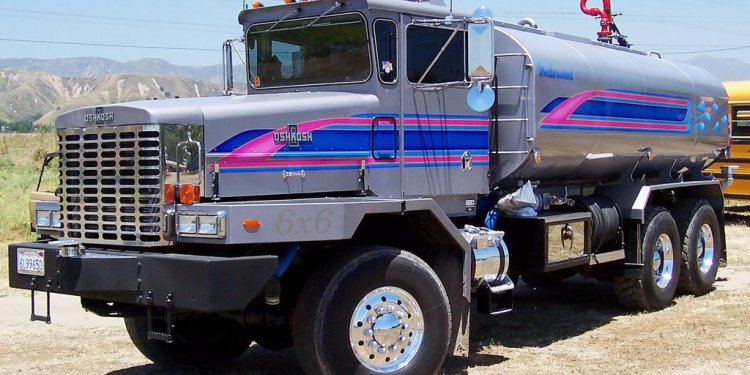 Underwood Water Trucks

When you talk about cars you are talking "transportation." Car enthusiasts typically are after speed, a "custom" look, showroom-perfect preservation, etc. But when you talk trucks, you are also talking "work:" hauling cargo, towing other vehicles, pulling out trees in clearing land, navigating difficult terrain, fighting a war, etc. Truck enthusiasts add to the mix of speed and looks the special abilities of their vehicles to do work.
A friend of ours in Melbourne, Florida, has a passion for trucks. He is Leo Underwood, present owner and restorer of two Forties-era Dodge trucks and a 1947 Willys Jeep. His father, Bob Underwood, owns two Dodge M37 military trucks, one of which Leo restored, and a second M37 awaiting attention. (The senior Mr. Underwood is owner of the 1949 Chrysler Highlander Convertible featured as allpar.com "Car of the Month" in December 2008.)
In restoring his 1942 Dodge WC pickup, Leo probably put as much effort into replacing a winch as a hotrodder could put into building an engine for the strip. The payoff he gets is what the truck can do for him. Talking about the aftermath of a storm to hit Florida, Leo recalls, "My place was high and dry because we are built on a mound, but there was flooding nearby. I got into my tall truck and drove roads in water up to the doorstep of homes. Folks waved for me to slow down, to not make a wake. It was terrible."
The photo that leads this article shows Leo Underwood's trio of Dodge and Willys Jeep utility vehicles in his driveway: a 1946 Dodge Power Wagon, a 1942 WC-4 model half-ton Dodge pickup, and a 1947 Willys Jeep. Missing from this group, but pictured below, is the Dodge M37 military three-quarter ton vehicle he restored, which is owned by Bob Underwood.
"When I was just out of high school, " Leo recalled, "I had a 1954 Willys Jeep pickup. I put 9.00 X 16 military tires on it and ran it in the open country near our property. Mud, mud, mud! I loved driving in it! And still do! I do get my trucks pretty dirty now and then. I learned a lot about trucks working in our family pool construction business for 26 years. We had a great mechanic for our fleet of trucks and equipment: Doyle Dunham, an old trucker from North Carolina who died a few years ago. He taught me a lot. But I really got hooked on trucks about 9 years ago when I saw a 1952 Power Wagon at a car show."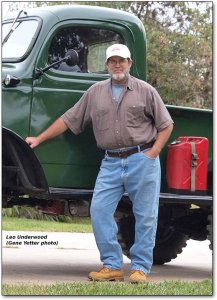 Leo has at least one other passion, bluegrass music. He plays mandolin and sings with a band called, Atlantic Bluegrass, and they are in demand to perform around the county (Brevard County). The group has a new CD (hear them on Myspace!).
The Underwood WC-4 has a closed cab. It came out of the factory with a winch, attested to by a built-in winch platform, but the winch was missing when Leo purchased the truck. The WC models that originally had winches were open-cab trucks with longer frames than the non-winch models, so the closed cab on Leo's truck is apparently not original. It would have been added over the years when it was registered in Maine – where the colder climate makes a closed cab sound like a smart idea.
The 4 X 4 WC half-tons came out in 1941 and '42 as pickups, panel trucks, weapons carriers, ambulances and command or reconnaissance vehicles. The excellent has comprehensive information on them; Leo believes, based on that site, that his vehicle has the WC-4 frame and bed, and the cab of a WC-12.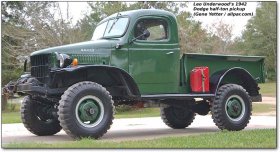 Dave Fenner added: A Dodge WC was strictly a half ton 2x4 truck that remained basically unchanged all the way through 1947. The WC-12 and WC-4 were 4x4 trucks. Dodge made many models from the basic VC and WC series, not all of which were half-tons; the WC-63 is a ton and a half 6x6 personnel and cargo truck with a winch; the WC-54 was a 4x4 ambulance; and the WC-59 was a 3/4 ton telephone maintenance and installation truck.
Up front, the vehicle has the cage-like steel radiator and headlight guard that is a common feature of military trucks.
A used winch was eventually purchased from Midwest Military, Inc., in Prior Lake, MN for $1, 400, with the PTO (power take-off) unit and driveshaft.
Leo acquired the half-ton in 2003 from a seller in Freeport, Maine. With his wife, Cindy, and their dog, Champ, they towed it home to Florida through New York City! The truck presently has 76, 000 miles on the odometer. The engine is a 218 cid in-line six-cylinder. Since our first interview in Feb. 2009, Leo has reported he is repairing minor rust on the half-ton and repainting it "desert sand."
1946 Dodge Power Wagon
Dodge introduced its one-ton Power Wagon in 1946, the first year the name was used. Among many differences between WCs and the Power Wagon was leaving off the radiator guards of the military era. But many features of the Power Wagon evolved from the WC series of vehicles in service by the military in World War II, and it is considered the first civilian truck of its size with true four-wheel drive.
The Power Wagon came with a two-speed transfer case and a four-speed transmission with PTO unit, sending power fore and aft to run auxiliary equipment. Dodge also sold half-ton pickups in 1946 but not with four-wheel drive.
Leo first saw the Power Wagon advertised in a classified listing at dodgepowerwagon.com. Its serial number, 88750235, indicates that it was assembled at a plant in San Leandro, California (closed in 1954). The truck was never registered outside of Oregon. Leo purchased it from a second-owner in the mountain town of Grants Pass, Oregon, towards the end of 2007. The seller was a fishing guide who had used the truck for 23 years in building a house in the area and moving gear in connection with his guide service.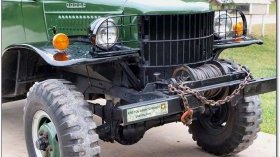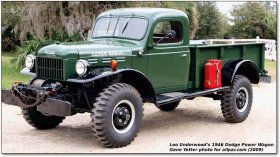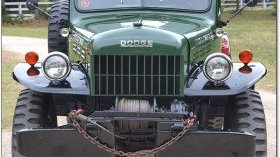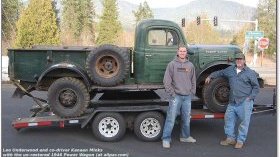 Share this article
Related Posts