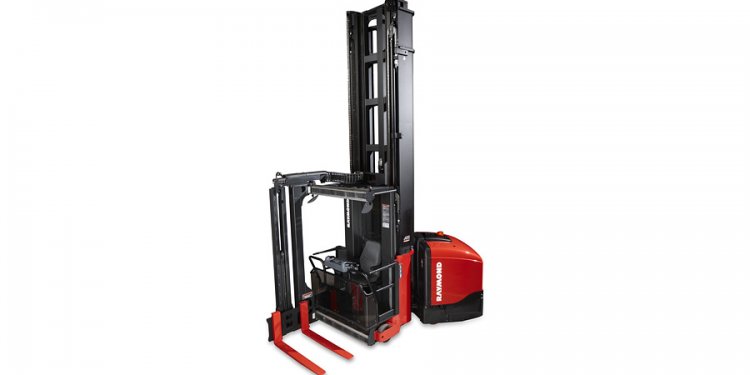 Crown Narrow Aisle Reach Trucks
NEW BREMEN, Ohio (September 4, 2012) – Crown Equipment Corporation, one of the world's largest material handling companies, announced today that it has again earned recognition in one of the world's preeminent design competitions. Selected by the Industrial Designers Society of America (IDSA) and presented by Yanko Design, Curve magazine, FUSE Conference and Core77, Crown earned a Gold (IDEA) for the Crown RM 6000 narrow aisle reach truck and a Bronze IDEA for the Crown QuickPick® Remote Advance low-level order picking system. These honors mark Crown's seventh consecutive year earning an IDEA.
Crown Equipment is one of the most decorated companies in the Commercial and Industrial Products category of the IDEA competition, with a total of 21 IDEA awards. It is also one of the most recognized companies regardless of product design category.
The Crown RM 6000 is the industry's first MonoLift® mast reach truck to provide unprecedented productivity gains through improved visibility, lift capacity, lift height and lift speed. Selected as an IDEA winner in the Commercial and Industrial Products category, the Crown RM 6000 allows businesses to gain utilization, flexibility and financial benefits by leveraging existing open rack space instead of building new warehouses or adding onto existing facilities.
Crown's most recent design recognition is no surprise for Jim Slattery, vice president of operations. As the largest, full-service, single-source, printer-independent mailing logistics provider in the United States, Fairrington Transportation uses Crown RM 6000 Series lift trucks in its facilities across the United Sates.
"When you operate a Crown forklift, it's obvious the company truly understands the design elements that make a good forklift and the relationship between operators and their lift trucks, " said Slattery. "As a result of this commitment, companies such as ours benefit from a product that doesn't just look nice; but, also helps to make an operator's job easier and their entire warehouse more productive."
Selected as a Design Research category winner, Crown's QuickPick® Remote Advance system uses task-automating technologies to simplify workflow and improve the picking process, thereby increasing productivity and reducing operator fatigue. The simple press of a button on a wireless transceiver allows order selectors to remotely advance the truck to the next pick location without having to return to the operator's compartment, allowing them to instead remain in the optimum position for picking. The technology is currently available with the Crown PC 4500 Series center control rider pallet trucks.
The IDSA IDEA program receives thousands of product submissions each year but only a few are honored with an IDEA award. With entrants from numerous countries and a continuing upward trend in international participation, the IDEA program highlights the best in design from around the world.
Since the 1960s, Crown has earned more than 70 major design awards. In the past 11 years, IDSA recognized Crown with an IDEA for these products:
• 2011 Gold IDEA: Crown WT 3000 Series pallet truck
• 2010 Gold IDEA: Crown ESR 5000 Series narrow-aisle reach trucks
• 2009 Gold IDEA: Crown GPC 3000 Series Order Picker
• 2008 Gold IDEA: Crown RC 5500 Series Stand-Up Counterbalanced Lift Truck
• 2007 Gold IDEA: Crown ST/SX/WF 3000 Stacker Series
• 2006 Silver IDEA: Crown TSP 6000 Series Turret Stockpicker
• 2004 Silver IDEA: Crown PE 4000 Series Rider Pallet Truck
• 2003 Gold IDEA: Crown FC 4000 Series Sit-down Counterbalanced Lift Truck
• 2000 Gold IDEA: Crown WP 2000 Series Walkie Pallet Truck and Crown SC 4000 3-Wheel Counterbalanced Truck
"These two IDEA design awards represent the bold innovation that results from our extensive discovery process to better understand the relationship between operators and their lift trucks, " said Mike Gallagher, vice president of design, Crown Equipment. "Crown's evolution of innovation involves insight from the entire company to guarantee that our advances in product leadership anticipate the needs of our customers."
About Industrial Designers and IDSA
Industrial Designers create satisfied customers by designing products, interfaces and services that are desirable, accessible, comfortable, ecologically responsible, innovative, safe and easy to use. In this way, industrial designers have a quiet but profound presence in almost everything people encounter during their daily lives.
Industrial Designers Society of America (IDSA) is the voice of industrial design committed to inspiring design quality and advancing the design profession through education, information, community and advocacy. Founded in 1965, IDSA is a professional membership organization with more than 3, 000 members in 29 chapters in the U.S. and internationally.
Share this article
Related Posts