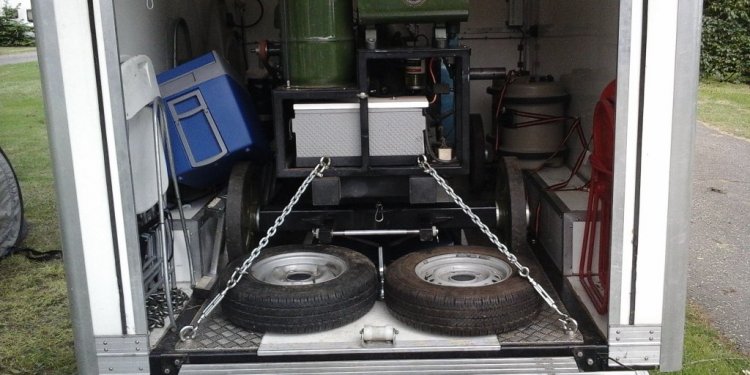 Chaining down heavy Equipment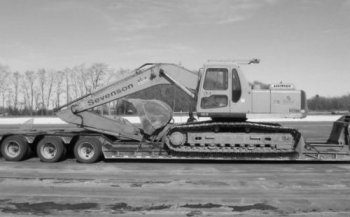 What Does This Section Cover? (Section 3.8.1)
The requirements in this section apply to the transportation of heavy vehicles, equipment, and machinery that:
Operate on wheels or tracks, such as
front end loaders
, bulldozers, tractors, and power shovels. Individually weigh more than 4500 kg (10, 000 lb.).
Note: Vehicles, equipment, and machinery that are lighter than 4500kg (10, 000 lb.) may also be secured in accordance with the provisions of this section, as well as with the general cargo securement requirements (Section 2) or Section 9, Automobiles, Light Trucks, and Vans.
Preparing Equipment To Be Transported (Section 3.8.2)
Requirements
Lower and secure to the vehicle all accessory equipment (hydraulic shovels, booms, etc.).
Restrain articulated vehicles to prevent articulation while in transit.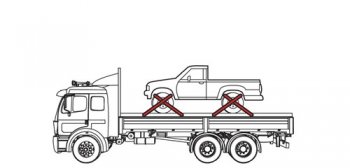 Parking Brake
Set the parking brake on the equipment being transported.
Special Circumstances: Securing Heavy Vehicles, Equipment, or Machinery with Crawler Tracks or Wheels (Section 3.8.2.1)
Tiedown requirements
Restrain cargo using a minimum of four tiedowns, each having a WLL of at least 2, 268 kg (5, 000 lb.). Prevents cargo movement in the side-to-side, forward, rearward, and vertical directions. Attach tiedowns: Either at the front and rear of the vehicle. Or at the mounting points on the vehicle designed for that purpose.
Cargo is restrained using at least 4 tiedowns
Note: More tiedowns may be required to satisfy the general cargo securement requirements (Section 2) that state: "The sum of the working load limits from all tiedowns must be at least 50% of the weight of the cargo."
Share this article
Related Posts