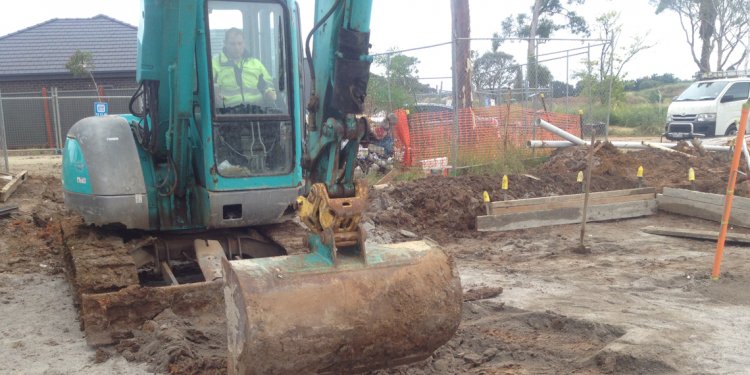 Tools used in Construction work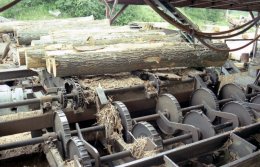 LOGS GOING UP THE CONVEYOR TO THE SAW MILL
We buy our hemlock and pine timbers from local mills in Vermont and New Hampshire and our douglas fir timbers come from Oregon. In this picture, bark is being stripped from logs at a saw mill.
THE SAWS AT THE MILL
After their bark is stripped off, the raw logs are cut into square timbers.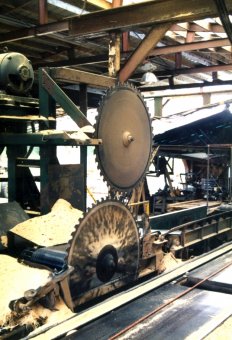 After being cut, the saw mill bands the timber together, loads it onto a tractor trailer truck and then ships it to our shop.
THE LAYOUT
The timbers are brought into the shop laid out by hand using the CAD generated design drawings. Accuracy is assured by a triple checking process. We use traditional measuring tools for the layout, like a framing square, bevel squares, etc. It is the most exact way since every timber is unique.
BIG SAW
Beam saws are used to cut the timbers to length, and to do angle cuts and compound cuts as shown here. Other hand tools used for cutting include japanese style pull saws, left handed worm saws, and a large band saw to cut curved beams.
DRILL PRESS
A hand held drill press is the tool used to bore the holes for pegs and bolts.
CUTTING A DETAILED JOINT WITH A SMALL SAW
Smaller saws are used to do the finer cuts.
APPLYING URETHANE
All timbers are finished on all sides, including in the pockets and on the ends, before leaving our shop.
THE ADZE
For a truly authentic look, hand hewn timbers are hewn the old fashioned way - by hand.
THE SLICK
A slick is used to clean the surface of a hand hewn beam.
FABRICATED TIMBERS READY TO SHIP
Finished timbers are labeled according to their unique location in the frame.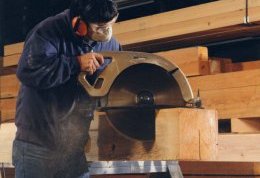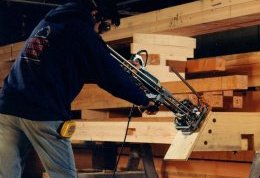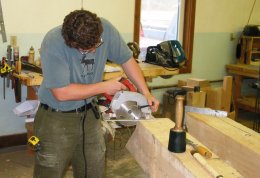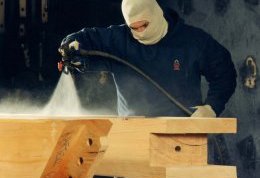 Share this article
Related Posts