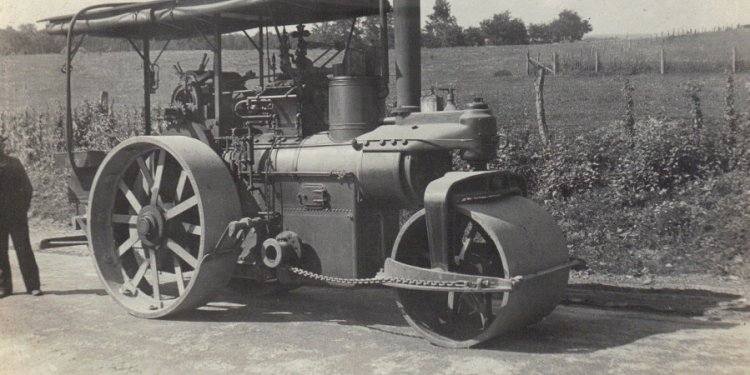 Steam Road Roller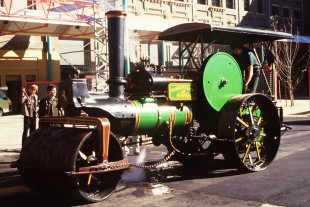 Were you one of the many Australian children who played on old steamrollers set up in municipal parks after they were no longer required by local councils? Steamrollers, more correctly called road-rollers, were the last type of steam vehicles used on roads. Ironically, it was the growing popularity of vehicles powered by internal combustion engines that led to the proliferation of steamrollers to compact roads both before and after tar was applied, creating a smooth road surface.
By 1910 motor cars were becoming so popular that local authorities and councils had to attend to road making and surfacing. Horse-drawn or steam-powered vehicles travelled at slow speeds and so generated little dust, but cars travelled at well over twice their speed, making dust a great problem, not to mention mud in the wet. Also, the first car owners were generally people of influence and affluence who no doubt put pressure where it was needed to have roads tarred.
The first successful road-rollers were developed in France by Lemoine and later Gelleret whose machine was an adaptation of the railway engine. In 1867, the progressive Thomas Aveling of Rochester in Kent, England, supplied a massive 30-ton machine to the Liverpool Corporation. Aveling and Porter continued research and development and in 1870, the final form of the roller emerged. This was a simple horizontal type boiler with a single or compound engine behind a chimney with chain or gear drive to the rear wheels, similar to the fast-developing traction engine of the day. Steering was by worm gear and chain attached to the protruding front roll spindle. The roller itself had a kingpin that swivelled through a plate bracket in an iron saddle well forward of the smoke box door. This became the standard pattern for all three-wheeled rollers.
This 6 hp steamroller in the Museum's collection was built by the foremost steamroller manufacturer, Aveling and Porter, and is one of about 8, 600 rollers made by them. It left the factory on 14th May 1923 and was exported to Australia for use by Bowral Municipal Council in the Southern Highlands of NSW. Rollers of this type were introduced shortly after the First World War and were amongst the first built by the company on standard jigs to give maximum standardisation of parts. The roller was used by the council until about 1955 when it was driven to the Goulburn Steam Museum for display there. It was purchased by the Powerhouse Museum in 1977 and restored to steaming condition in the mid-1980s. If you want see the Aveling and Porter steam road-roller it's currently on display at the Powerhouse Discovery Centre at Castle Hill in NW Sydney.
Specifications:
Builder: Aveling and Porter Ltd, Rochester, Kent, England
Year: 1923
Builder's No.:10637
Model: Type D
Engine: Compound
Share this article
Related Posts