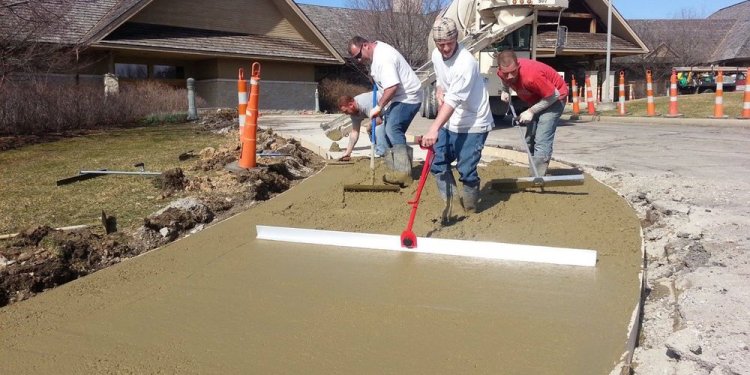 Cement Finisher tools
Job Description: Cement Mason/Concrete Finisher/Utility Operator
Performs work on concrete where finishing tools are used
Essential Functions of the Job
1. Setting of screeds, the rodding, shaping, smoothing and finishing of the surfaces of freshly poured concrete floors, walls, sidewalks, curbs, steps and stairways, the finishing of extruded barrier rails or any other concrete surface requiring finishing, using hand tools or power tools, including floats, trowels, screeds and straightedge
2. The removing of rough or defective spots from concrete surfaces, using grinder or chisel and hammer and patching holes with fresh concrete or epoxy compound preparatory to sacking
3. Molding of expansion joints and edges, using edging tools, jointers and straightedge
4. Sandblasting or water blasting for architectural finish or preparatory to patching
5. Cutting of joints with concrete saw for the control of cracks in buildings and sidewalks, driveways and curbs and gutters
6. Setting of concrete curb, gutter and sidewalk forms
Equipment/ Job Location
1. This position requires the use of hand tools, power equipment, and vehicles.
2. The job location is in all areas as required in our geographical work area. The employee will work primarily outdoors, exposed to inclement weather, and in the proximity of biological, chemical, electrical and mechanical hazards.
Required Knowledge, Skills and Abilities
1. Prefer possession of a diploma from an accredited high school or have attained the equivalent GED.
2. Must have legal authorization to work in the United States.
3. Must consent to and pass a pre-employment drug screening.
4. Must be able to comprehend both oral and written instructions and to communicate in English, both orally and in writing.
5. Knowledge of or ability to learn Occupational Safety Hazards and appropriate safety precautions and procedures.
6. Ability to report for work on time and perform the duties of the job for a complete workday in our geographical work areas
7. Ability to perform overtime, night and weekend work.
8. Ability to work while wearing personal protective equipment such as a self-contained breathing apparatus, steel-toed shoes, rain gear, hard hats, goggles, etc.
9. Ability to establish and maintain effective working relationships with supervisors, co-workers and the public
10. Ability to exercise independent judgment within the limits of the position.
11. Physical strength and dexterity requirements are, but not limited to the following:
12. Lift and carry 100 pounds of tools or construction materials over rough surfaces.
13. Climb ladders, descend manhole steps approximately 60 feet deep.
14. Work in confined spaces.
15. Work in confined spaces in the presence of offensive dust, fumes, and odors and hazardous materials while wearing proper personal protective equipment.
16. Manipulate both large and small tools and parts.
17. Remove and replace a manhole cover weighing approximately 165 pounds.
18. Must be able to work in a variety of positions throughout the day including standing, stooping, bent at the waist, at waist level, shoulder height and above the head s quid.
Competitive Benefits Package:
Emery Sapp & Sons, Inc. offers a competitive wage, excellent benefits and a professional work environment. Our biggest benefit is that all ESS employees own our Company. Our Employee-Ownership is the reason that ESS has, and continues to achieve success. Instead of just having a job, ESS Employee-Owners are building a stake in our company from the minute they join us. Apply today to learn more about building more than just a career with us.
Emery Sapp & Sons is an equal opportunity employer and we make employment decisions on the basis of merit, qualifications, and competence. The Company does not discriminate against any employee or applicant for employment on the basis of race, color, sex, religion, age, national origin, ancestry, marital/familial status, sexual orientation, veterans' status, genetic information or disability or any reason prohibited by law. EOE
Share this article
Related Posts