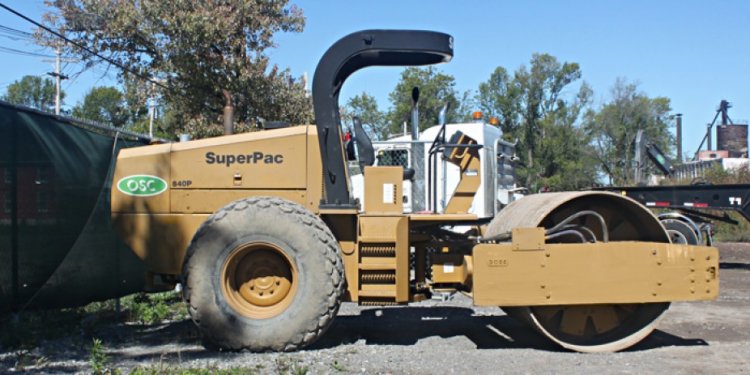 Sheepsfoot Roller attachment
Wacker Neuson offers two models of attachment compactors, which are controlled from the excavator and provide high compaction performance and depth.
992-lb. WAV 40 (for excavators up to 20, 000 lbs.) offers a 16.5" x 41" baseplate and produces up to 9, 217 lbs. of centrifugal force
1, 323-lb. WAV 60 (for excavators in the 16, 000- to 34, 000-lb. range) has a 25.2" x 46.5" baseplate and produces up to 15, 737 lbs. of centrifugal force
Eccentric rotator axis provides better handling characteristics with an extended reach and optimal guidance
Wacker Neuson Corporation
Compaction Wheel
Kenco compaction wheels feature a unique design that mixes the soil as it compacts.
High-strength steel spoked rims
Self-cleaning capabilities
Available for all trench sizes from 4 to 60 in.
Quick-connect models available
Removable mount with pins and a soil leveling plate
Standard sheepsfoot style with hex pad and wedge pad wheels available
Kenco Incorporated
Compaction Wheels
These excavator or backhoe compaction wheels provide a fast, efficient method for compacting backfilled trenches.
SF Sheepsfoot for cohesive and well-graded soils
TF Tamper Foot for granular soils
EX Solid Drum delivers more impact area in all soil types
Self-cleaning design made of high-strength, weight-saving alloy steel
No need for hydraulics
Rockland Mfg. Co.
DCS6000 Trench Compaction Plate
The DCS6000 compaction plate extends down to 36 in. below the surface into trenches.
Dual counterweight design delivers 6, 000 lbs. of true vertical compaction force directly into the trench
2, 100-vpm frequency
Available in 16-, 18- or 24-in. widths
Attaches to any skid steer equipped with a quick attach
Flow control valve controls flow to 16 gpm to ensure correct vpm and force
Coneqtec
Diamond Compaction Wheels
The Diamond Compaction Wheels are suited for use on backhoes, excavators, skid steers and compact excavators.
Require no special hydraulics or systems for power
Come in widths from 4 to 72 in. in sheepsfoot or wedgepad styles
Engineered to withstand impact and thrust loads applied
Include Rexnord "Triple" seal bearings, rockguards, OEM mounts, pins and leveling plates
American Compaction Equipment Inc.
EDGE Vibratory Rollers
EDGE vibratory rollers can compact everything from clumpy, clay-type material to dirt, sand, gravel or backfill.
Smooth or padded drums
Scraper design prevents buildup
Motor mounted outside the drum
Heavy-duty belt drives the exciter located in the drum
Available in 73- and 84-in. sizes
CEAttachments Inc.
HC 920 Compactor Attachment
The 1, 600-lb. HC 920 hydraulic compactor attachment features FAG bearings, a Permco motor and Lord shock mounts for greater performance and durability.
Delivers a 16, 000-lb. impulse force and 2, 200 cycles per minute
Accepts maximum hydraulic flow of 30 gpm at 2, 200 psi
Suitable for carriers in the 9- to 20-metric-ton weight class
28" x 40" plate formed from a single piece of extra-thick stock
Atlas Copco Construction Tools LLC
Ho-Pac Model 500
The Ho-Pac Model 500 features 30% more impact energy, a four-function valve and oil splash bearing lubrication.
For use on mini-excavators, rubber-tired backhoes and trenchers with backhoe attachment
12-in.-wide baseplate
Compacts 2- to 4-ft. lifts and operates with 3, 940 lbs. of impulse force at 2, 000 cycles per minute
Three motor options (9, 14 and 18 gpm)
Allied Construction Products
Hydra-Pak Models
The KHP 35, KHP 65, KHP 135 and KHP 210 incorporate rubber shocks to absorb vibration and protect the carrier boom, as well as a cross-over check valve to protect the motor.
Available with an OEM bolt-on top cap
TLB version offered with the Switch-Hitch side plate mounting system
KHP 35 features a 12-in. footprint for use in narrow trenches
Pro-Pak includes hose whips, mounting hardware and operating manual
Kent Demolition
OAC100 Plate Compactor
The OAC100 boom-mounted hydraulic plate compactor is designed for mini-excavator applications.
300-lb. working weight
3, 150-lb. impulse force
Hydraulic flow capabilities up to 10 gpm
12" x 30" plate
Okada America
PAC Series Plate Compactor Attachments
The PAC Series of plate compactor attachments from Doosan Infracore are designed for carriers from 3, 000 to 60, 000 lbs.
Oversized eccentric transmits vibrations through the baseplate into the soil
Isolators ensure vibrations are not transmitted to the carrier boom
Fully enclosed bearings do not require greasing
Integrally mounted baseplate and eccentric housing
Seven models available including side- and top-mount versions
Operating pressure of 2, 300 psi
Maximum back pressure of 100 lbs. per square in.
Doosan Infracore America Corp.
Pull-type Vibrating Compactor
This 18-ton pull-type vibrating compactor is available in padfoot or smooth drum models.
Vibration frequency varies with the amount of oil sent from the tractor
58.4 tons of compacting force (vibrating force plus machine weight)
Amplitude of .071 in.
Padfoot drum measures 79 in. wide by 72 in. high
2- to 5-mph working speed
Miskin Scraper Works, Inc.
Skid steer compaction wheels
These compaction wheels turn your skid steer into a self-propelled compactor.
Rim diameters of 26 to 52 in.
Widths of 4 to 72 in.
Can be attached to Bobcat blanks or other quick-coupler designs for quicker exchanges between attachments
Sealed roller bearings for increased life and trouble-free maintenance
Action Equipment Systems Inc.
Stehr Hexagonal Plate Compactors
The 650-lb. SBV 60 H and 2, 400-lb. SBV 120 HF incorporate hexagonal bottom plates that can easily reach every ground spot without a rotating motor.
Suitable for excavators from 2.5 to 30 tons
Deliver 60 KN (6 tons) and 120 KN (12 tons) of centrifugal force
60-Hz vibration frequency
Require 13.2- and 17.2-gpm oil flow
Dual counter-acting eccentric shafts deliver 100% vertical compaction force
Share this article
Related Posts