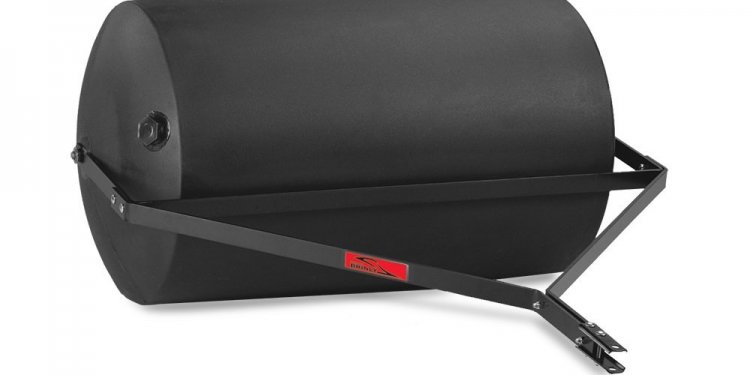 Pull behind Roller packer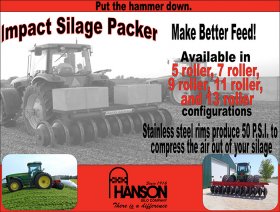 Make sure you have weight on the front of Tractor.
Have the outside roller inside the duals in a bunker silo.
| | |
| --- | --- |
| DESCRIPTION & Unit Weight | WEIGHT w/ Blocks |
| 5 Roller Feed Compactor (6' Wide)3, 300# | 5, 800# |
| 7 Roller Feed Compactor (8' 6" Wide) 4, 500# | 7, 000# |
| 9 Roller Feed Compactor (11' Wide) 5, 850# | 10, 850# |
| 11 Roller Feed Compactor (13' 6" Wide) 7, 150# | 12, 150# |
| 13 Roller Feed Compactor (16" Wide) 8, 450# | 18, 450# |
| Two Bar Hitch, 3 Point | 295# |
Several dairy producers in the Midwest recently saw an opportunity to improve their feed storage capacity and feed quality with a new pull-behind tractor implement.
The Impact Silage Packer follows a very simple concept - using weight to pack down feed.
The packer is basically an implement consisting of rollers that each weigh 650 pounds and are designed to increase feed compaction on forage piles and bunkers.
"The idea came up and the machine was tried out on a few different farms, " Martin says. "We started using the product on a trial basis and then grew from there."
Importance of compaction
Jon Rasmussen, dairy technology specialist at Vita Plus in Wisconsin, explains that good compaction results in an increase in packing density and provides benefits that are multifold.
"The primary benefit is that the producer decreases the amount of dry matter loss, " Rasmussen says. "Other benefits include better forage fermentation, which helps keep a more stable product all the way through."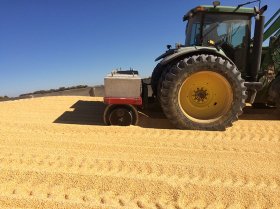 When fresh forages are moved from the field to the storage location, the forage is aerated, enabling oxygen to filter through the feed.
Removing this air is important to allow for a faster fermentation, which helps preserve the crop and maintain its quality.
If the feed is not compacted and the air is left in a covered pile, the remaining oxygen fosters microbial growth, resulting in feed spoilage.
Product designers say the new implement helps remove air from the ensiled forages by packing the feed tightly, thoroughly and effectively.
Rasmussen points out that the amount of space required for the forage crop is also reduced due to the compaction. "With a good density, you can increase the amount of feed in a storage unit and not necessarily have to use more space, " he says.
Dick Van Rijn, a dairy producer from Deford, Michigan, bought his packer halfway through his crop harvest two years ago in order to help improve the compaction of his silage pile.
"We had a pretty good density before, but I was trying to do better, " Van Rijn says. "What I see now is that the pile looks much nicer than when you just push up the silage, because it levels it off too."
He explains that after packing for a while he found it better to lift the implement up during the first few runs and only pack the silage down with the tractor tires because the silage was loose.
Afterward, he would lower the implement and use it to finish compacting the silage.
He also points out that he had to place additional weight on the front of the tractor to counter the weight of the implement behind the tractor.
Packing densities
Rasmussen works with producers that use the new packing implement to obtain density tests from ensiled forages such as haylage or corn silage and are expressed in pounds of dry matter per cubic foot.
Rasmussen looks for 20 pounds of dry matter per cubic foot of the ensiled forage. He explains that a higher density is usually obtained with haylage, whereas the packing density for corn silage is usually a little lighter.
"If you are aiming for 20 and you're at 18 on corn silage, that's probably acceptable, " Rasmussen says. "If you're at 18 on haylage, you might question that amount."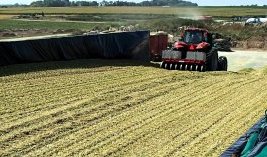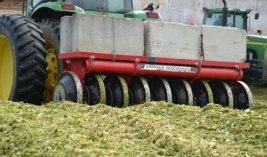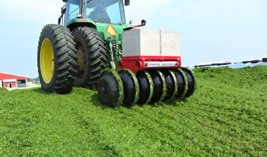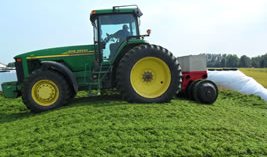 Share this article
Related Posts