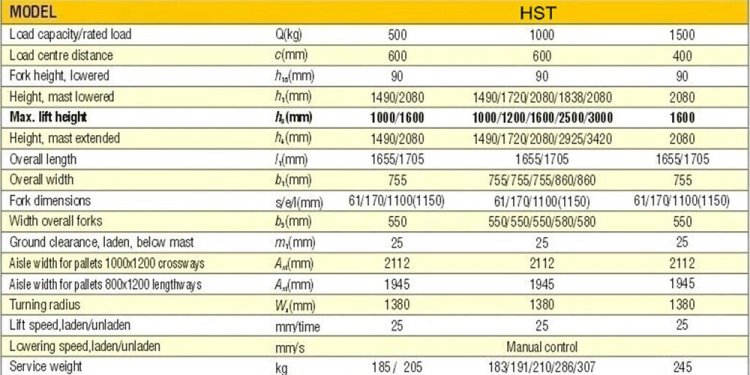 Hand Pallet Stacker
Let's take a look at a sample product or two to get a feel for what lift trucks are.
Wesco Hydraulic Drum Stacker – This is a manual drum lift that has front wheels as well as swivel casters. It comes stock equipped with floor locks to concretely secure the lift while loading and lifting, and a beneficial safety screen for added protection. Furthermore, you can get it in three different sizes.
Escalera Winch Lift Stacker Hand Truck – the motto of the Escalera Winch Lift Stacker Hand Trunk is to make light work of heavy loads. With several excellent features, it does so well. These include ergonomic handles, single control, multiple hand holds, lightweight aluminum alloy, rechargeable battery, and swivel casters. This is a powerful device. It is worth the money. Consider getting it if you want a serious lift truck.
Wesco Electric Value Lift Stacker – This is the perfect lift stacker for you. You can have a lift height of 47" – 59". It features a sealed maintenance-free battery. There is a keyed on/off switch. This lift stacker gives you ultimate control. You'll be able to lift any load that you must.
Lift trucks will help you get the job done in an industrial, manufacturing, or factory setting. If you are not absolutely certain about which lift truck to get, consider the price point. The different kinds of lift trucks are really not so significant, because they will each accomplish the same basic task. Pay attention to the sizes, capacities, and dimensions. These will be more important factors in determining what kind of lift truck you need to buy.
Lift trucks and pallet stackers aren't all you need, but they can certainly help you get the job done. You can simplify all your warehousing and material handling with a good lift truck. There are some that even work with a foot pedal so you can free up your hands for other objectives. Precise lifting, handling, and lowering of heavy loads can really make it easier on your workers to get their job done. Safety valves, safety shields, floor locks, and more can make the product safer. Try to procure a lift truck with a warranty built in just so you can make sure that you'll be getting the most possible for your money.
Lift trucks and pallet stackers are not toys, and you need to ensure that your employees have proper instruction and skills in using them right. If they are not given the right training, then they could endanger themselves and others. The good news is that they are relatively easy to operate, and they are a breeze to use once you get the hang of it. Your employees shouldn't have any problems with it once they get the hang of it.
Lift trucks and pallet stackers can be cumbersome and harrowing to use for someone that doesn't know what they're doing. Don't put someone in charge of it that has no experience using or operating it. They can compromise your goods or themselves.
Lift trucks are the province of serious, heavy-duty manufacturers, factories, and plants that need to lift some serious stuff on a regular basis. They are a big investment, and they should be treated as such. Measure the weights, sizes, and dimensions of the objects you anticipate lifting and lowering, and then decide on the right pallet stacker for you. You may want to get an expert to help you decide what lift truck to get. They need to get intimately familiar with what you are trying to lift or handle though. If you are unable to find an expert, consider asking one of your employees who is intimately familiar with the goods you have to lift and carry to give you a head's up on the dimensions, sizes, and weights of everything that you need to haul around. He could be more of an expert than you are.
Getting a lift truck or pallet stacker is a big decision, and you should do so with the aid of an expert or your employees. You don't want to fall short of getting the right lift truck for your business. It could be a bad purchase.
Material lift trucks or stackers as some people call them, are good to use in, warehouses, , factories, tool rooms - or wherever you need to lift things. Come buy one today at the lowest price anywhere with our low price guarantee. Handtrucks2go.com offers a large selection of electric and hydraulic lifts for all your moving equipment needs!
Share this article
Related Posts