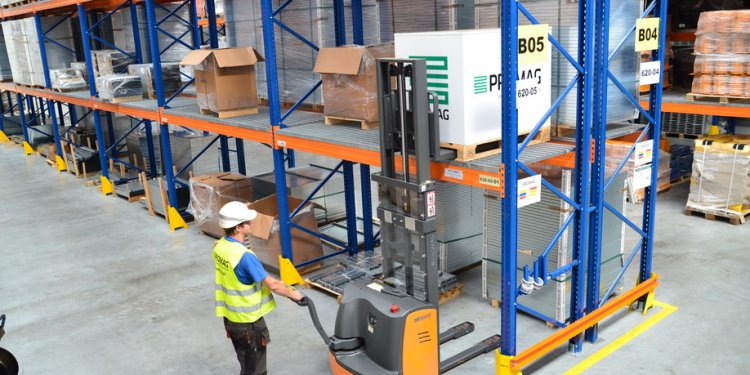 Pallet Stackers
Applications
Pallet stackers and dispensers are used in conjunction with conveyor and transfer systems to improve the flow of products by allowing for dispensing or accumulation of pallets automatically.
Quick Features
Handle both Wooden and Plastic Pallets
Constructed of Structural Plate Lined Steel with Durability Built in for Years of Service
Consult our Customer Service Department on Standard Sizes and Configurations Available to Fit your Needs
Download Pallet Stackers/Dispensers Information
Pallet Stackers/Dispensers Overview (PDF Format)
Standard Features
Two (2) Year Warranty
Frame: Welded Structural Steel Frame with Heavy Gauge Steel Enclosure Panels
Magazine: Steel Lined with Structural Steel Support Channels on Three (3) Sides, Standard Magazine 8' High, 15 Pallet Capacity. Loading and Unloading of Stacked Pallets is Available at 90° or 180° from In-Feed/Exit of Drag Chain Conveyor.
Fingers: Pneumatically Operated Pallet Holding Fingers
Lift: Electrically Driven Hydraulic Lift Table to Lift and Lower Stacks of Pallets as Required for Stacking or Dispensing of Pallets
Controls:MicroLogix PLC Controlled with Devices Pre-Mounted and Wired to Control Enclosure for Automatic and Manual Operation. "Hand-shake" Ready.
Conveyor: Dual Chain Conveyor integrated within the Unit extends 2'- 6" beyond Frame. Conveyor Elevation 18" Top of Chain. Other Conveyor Lengths and Elevations are Available.
Pallets: Unit Capable of Stacking or Dispensing a Consistent Pallet Size. Pallets must be in Good Condition and Allow Holding Fingers to Operate Dependably.
Share this article
Related Posts