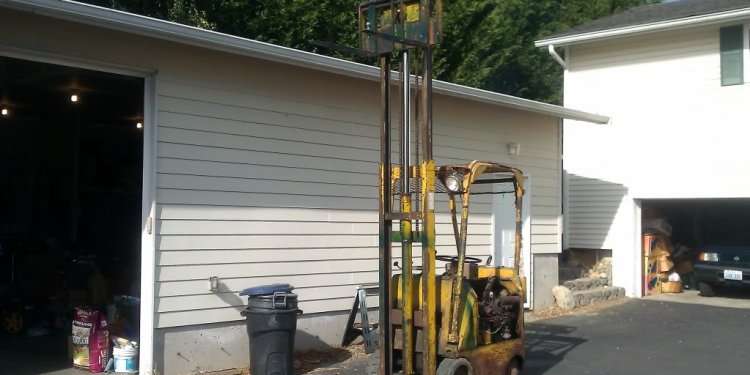 What is a tow motor?
The TOWMOTOR CORPORATION was founded in 1919 by LESTER M. SEARS when he unveiled the prototype of the gasoline-powered industrial tractor that revolutionized materials handling. After some initial sales, F.W. Sears, Lester's father, capitalized the enterprise and, until his death in 1934, ran it with his son from Bliss Avenue in EUCLID. After manufacturing small tractors that pushed or towed heavy loads through plants for the first fourteen years, Towmotor introduced the first forklift industrial truck in 1933. Over the years, the design was streamlined to produce a compact basic unit that featured a short turning radius, high-speed reverse and forward speeds, a pair of forward forks on hydraulic lifts, and a carefully balanced rear end. Though many companies built variations, Towmotor's "one man gangs" were so popular that all industrial forklift trucks were generally referred to as "towmotors." Since they were considered essential cost-saving equipment, one Towmotor performed the work of thirty men with hand trucks, the company's sales actually doubled during the Depression. Sales of Towmotor units to unload ships were brisk during WORLD WAR II and the KOREAN WAR.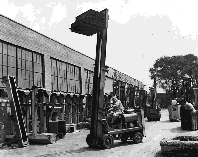 Forklift testing at Towmoter Corp., Aug. 1942. Cleveland Press Collection, CSU Archives.
In the 1950s and 1960s, Towmotor set out to capture a greater share of the market by introducing new models and acquiring companies with product lines that expanded lift capacity. The gasoline, diesel, and LP gas-powered units for general and specialized use won the company both defense and civilian contracts and entrenched its position as the leader in the 1, 500-15, 000 pound capacity range. With the acquisition of Gerlinger Carrier Company of Dallas, Oregon, in 1956, Towmotor's lift capacity was increased to 65, 000 pounds. While the market for such powerful trucks had traditionally been western logging, Towmotor developed new markets in steel and other heavy industry in the East and Midwest. The acquisition of Ohio Gear Company, located at 1332 East 179th Street, in 1963 gave Towmotor expertise in gears, sprockets, shafts, and speed reduction units.
On November 10, 1965, Towmotor officially became a wholly owned subsidiary of Caterpillar Tractor Company of Peoria, Illinois. At the time of its acquisition, Towmotor was a stable firm with established worldwide markets and employment of over 2, 000. It had general offices at 16100 Euclid Avenue in EAST CLEVELAND and factories at 1226 East 152nd Street and 1705 North Noble Road in East Cleveland. Caterpillar maintained that Towmotor would keep its production, sales, and, service integrity, but immediately the "Caterpillarization of Towmotor" began. Following the completion of a 1.1 million-square-feet plant at 7111 Tyler Road in Mentor in 1971, Caterpillar relocated Towmotor's entire operations from East Cleveland to the new facility. Initially vehicles manufactured at Mentor carried both the Caterpillar and Towmotor names, but the Towmotor name was removed by the early 1970s. While Towmotor benefited from Caterpillar's automated parts system and worldwide sales and service organization, its position in the lift-truck field slipped as a result of its affiliation with the equipment giant. Towmotor, which had seen minimal labor trouble throughout its history, was also hurt when Caterpillar was chosen as a strike target for the UNITED AUTO WORKERS (UAW) in 1967, 1971, and 1983. Faced with foreign competition, slumping demand, recessions, and labor disputes throughout the 1970s, Caterpillar became an outspoken advocate of shifting production to its more cost-efficient overseas facilities. Towmotor was one of the first subsidiaries adversely affected by the unfavorable market conditions as employment at the Mentor plant dropped from 2, 700 to 622. When workers at Mentor and eighteen other Caterpillar plants in six states went on strike in 1983, the company threatened to shift production to South Korea. A month after reaching an agreement with the workers, Caterpillar contracted with Daewoo Heavy Industry to manufacture lift trucks in South Korea and announced the closing of the Towmotor plant in Mentor. The plant officially closed in September 1985 after Caterpillar shifted all production overseas. In 1992, Caterpillar and the Japanese-based Mitsubishi Heavy Industries formed a joint venture company, Mitsubishi Caterpillar Forklift America Inc. (MCFA), to produce and market lift trucks in the United States. MCFA has manufactured towmotors in Houston, Texas, first under the Caterpillar brand and then the Cat brand.
Share this article
Related Posts