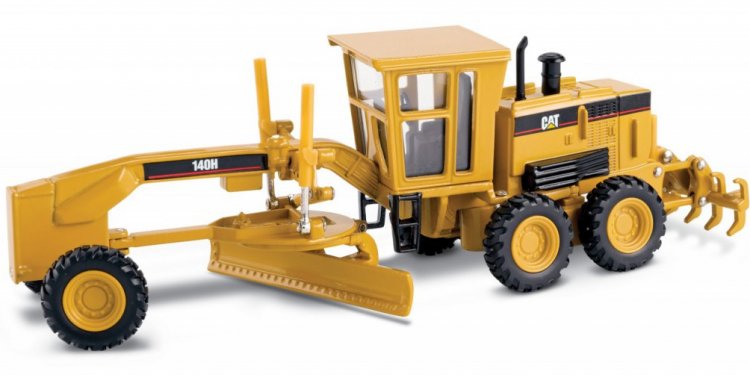 Compact Motor Graders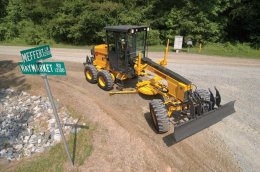 Municipalities are turning to the C86 C to perform road maintenance tasks over full sized graders.
In this challenging economic climate of declining tax revenue and increased costs, municipalities are searching for new opportunities to perform their tasks effectively and affordably.
For municipal road maintenance crews, there are few options in choosing machinery to maintain unsurfaced roads and a grader is a must-have machine. Traditionally, they are used for routine surface smoothing, removing shoulder berms, removing washboarding, spreading new gravel, ditching and back sloping. However, rural counties that face little growth in funds for their road departments need to be innovative as they juggle costs to maintain their roads.
So when Rick Young, the general service superintendent of the city of Dover, Ohio, set out to replace a Galion A-600 grader, he weighed his options carefully.
"We were looking for something smaller to replace the one we had, " he said.
That is why he chose a C86 C from Champion Motor Graders. The compact articulated all wheel drive grader weighs only 15, 500 lbs. (7, 030 kg) and is smaller than a full-sized machine. Size played an important factor in his decision since his department is responsible for maintaining alleys and gravel roads in the region.
"We need to get into 12 ft. wide alleys and with the other grader it was really tight sometimes, " said Young, adding that the optional all wheel drive feature will help. "It's smaller and lighter but we needed all the traction that we can get to go uphill in the winter. It gives us more power to get into an alley and keep it straight because there is not a lot of room in there and we don't want the machine sliding sideways, " he explained.
Just Like a Big Grader, Only Smaller
Before choosing the C86 C, Young said he did his homework to make sure it could deliver the power and performance that it required by visiting other municipalities to see what they were using.
"We looked at another model from a different outfit, but the Champion machine looked a lot sturdier. I like that the frame was made from welded steel and not stamped parts. It is made like a big grader but it is smaller. The other machines we looked at didn't seem to have the strength of the Champion and that was important because it won't be just me operating it, " said Young.
In addition to the standard 10-ft. (3 m) blade, Young also opted for a front dozer blade scarifier and air conditioning in the enclosed cab, pointing out that once inside it doesn't feel a whole lot different from a full-sized grader.
"It feels roomy enough inside the cab, just like a regular grader. The glass goes right down to the floor so we can see the blade. The visibility in the cab is really nice, " he said, adding that the adjustable steering wheel and controls contribute to the operator's comfort.
"I got big guys and skinny guys who need to get in there and they are both happy, " he said with a chuckle.
Getting to and from the job site is much easier with the Champion C86 C, not only because it is small enough to easily load onto a trailer, but because it is small enough to maneuver on roadways, helped along by the hydrostatic power providing variable control through the entire range of ground speeds, according to Young.
"In grading mode, it's in low-gear but in town we drive it to the job site instead of loading it on a trailer. We only have an average of three to four miles to sites and the road-gear gets us up to 20 miles per hour, " he said.
Right Fit For Municipalities
The city of Dover purchased the C86 C from Southeastern Equipment in North Canton, Ohio. Ryan Haney, a sales representative of Southeastern Equipment, said the grader was the first one that Champion has sold in Ohio in about 20 years.
"The Champion graders are a great fit for our product line. We service the municipal customer and this compact grader is a really good fit, " he said, adding that the model that Young and his road crew are using is perfectly suited for the tight alleys they need to access.
"It's all about the size because what they are finding is the amount of dirt roads they are maintaining is decreasing, so the need for having that monster grader that can go out and rip up three miles of road and grade in a day just isn't there. Being this is all wheel drive and it's small, but the C86 C has the power to do the light ripping, grading and ditching because of the all wheel drive."
Haney said the Champion machine has all the amenities of a full size grader, including the wheel lean, blade tilt, below-grade cutting, side-shift on the blade, steering angle, articulating frame, as well as the optional enclosed cab with heater and air conditioning on top of the fuel efficient Cummins Tier III engines.
"Those all play a factor in what they need to do; they have the need for a big grader but don't have the room and the money for it. This has all the same features as a full size grader and it's very well put together, " he said. "And it's about half the price."
Champion bundles its machines with a warranty program that Haney said is a great advantage to dealers that sell to municipalities. It comes with a two year transferable machine warranty, with another additional year for parts, plus a lifetime frame breakage warranty for first owners that is provided as a standard.
"Nobody else can touch that and when you are in a bid situation the warranty alone can make or break you, " said Haney. "Everybody else offers a one year full machine and that's it. When you tell customers they get a lifetime warranty on anything you have their attention and they will listen to you."
Share this article
Related Posts