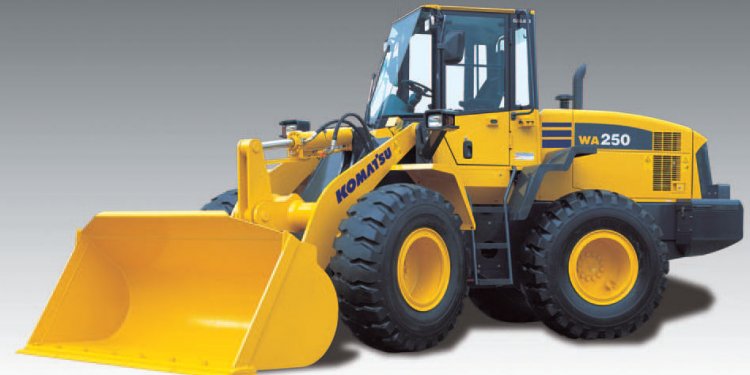 Komatsu 250 Loaders
Boasting increased loading power and performance for a wide range of applications, Komatsu has introduced its WA250-6 wheel loader, which features a hydrostatic transmission system, variable traction control, improved operator comfort features, and the company's latest Komtrax technology.
Replacing the WA250-5 wheel loader, the WA250-6 is powered by a six-cylinder, 6.7-L turbocharged Komatsu engine that is certified to U.S. EPA Tier 3 and EU Stage 3A, and delivers 138 net hp (103 kW) at 2000 rpm.
Komatsu's hydrostatic transmission system (HST) allocates power according to demand, transmitting it hydraulically to a transfer case, then mechanically out to the differentials and the four driving wheels. The one-pump, two-motor system automatically adjusts to tractive effort demand to provide quick travel response and aggressive drive into the pile. The system features full auto-shifting, which eliminates gear shifting so the operator can focus on the primary tasks of digging and loading.
Both motors are fed by the HST's single pump for tasks requiring high drive torque, such as digging, climbing, or initiating travel. The system responds to a reduction of torque demand, for example as a moving loader gains ground speed, by removing the low-speed motor from the drive system via a clutch; this reduces drag on the system as the flow goes only to the high-speed motor.
The HST system can also act as a dynamic brake on the mechanical drive system under conditions of deceleration, e.g. as the machine slows or completes a dig-and-lift operation. The dynamic brake can hold the loader in position on most workable slopes.
When traveling at a low speed, the machine's tractive effort can be reduced with the traction control switch, which can help to reduce tire slippage, especially in wet or soft ground conditions. By helping to eliminate excessive bucket penetration and tire slippage during stockpile loading, the system helps to improve work efficiency and extend the life cycle of tires. Tractive effort can be temporarily increased back up to 100%, for example for aggressive penetration into the pile, with a maximum tractive switch that is located on the work equipment control lever.
For snow-covered or other slippery surfaces, a new S-mode control helps to provide optimum driving force at low speeds by controlling engine speed and the HST motor; this mode is only available for forward travel.
Share this article
Related Posts