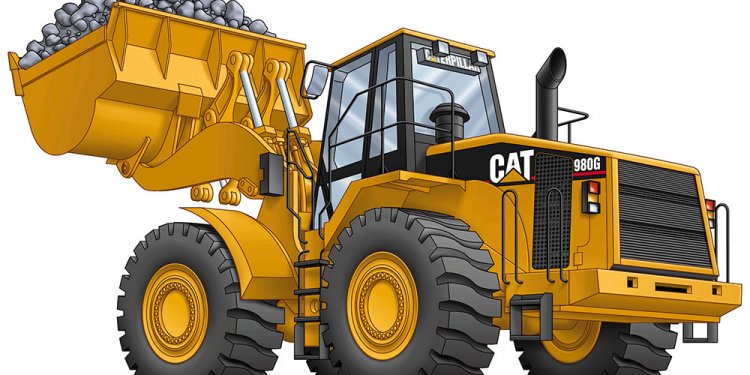 Front Loader Caterpillar
Build a 980H to fit your operation.
A variety of buckets and other work tools for many different applications make the 980H a very versatile wheel loader
Many options can be ordered factory-installed to customize the 980H for your operation
Special machine arrangements can be provided from the factory for aggregate, forestry, scrap, steel mill and waste applications
A high lift arrangement is available for special dump clearance needs
Work Tools and Quick Couplers
A variety of buckets, work tools and couplers are available from the factory or your Caterpillar dealer to customize the 980H for your operation.
Quick Couplers
Quick couplers provide unmatched versatility for wheel loaders. Buckets and work tools can be changed in seconds without leaving the cab for maximum productivity.
General Purpose Buckets
General purpose buckets provide good all-around performance for stockpiling, rehandling, excavating and bank loading. A heavy duty general purpose bucket can be used for more abrasive applications.
Material Handling Buckets
The material handling bucket is a flat-floor bucket used for handling stockpiled materials such as aggregates or other easy-to-load materials requiring moderate breakout force.
Rock Buckets
Rock buckets are designed for face or bank loading in mining or quarry applications. The straight-edge rock bucket provides higher breakout force and increased dump clearance. The spade-edge rock bucket offers better penetration.
Waste Buckets
Waste buckets are designed for long life in the harsh world of refuse applications. The high capacity bucket is well-suited for loading, sorting and other transfer station work.
Coal Buckets
Coal buckets maximize productivity in loading and stockpiling applications of coal and other materials of the same density.
Heavy Duty Quarry Buckets
The heavy duty quarry bucket is available for high-impact or high-abrasion quarry applications.
Woodchip and Clean-Up Buckets
Woodchip and clean-up buckets are available for forestry and millyard applications.
Forks
Logging, millyard and pallet forks are available for forestry and material handling applications.
Specialty Work Tools
Other specialty work tools, such as material handling arms and snow plows, are available for the 980H. Contact your local Caterpillar dealer for application and availability information.
Ground Engaging Tools (GET)
Several GET options are available from Caterpillar for the 980H buckets. A cast corner adapter is incorporated into the design of the buckets that allows a tooth to be placed on the extreme corner for protection against base bucket wear. Reversible bolt-on cutting edges (BOCE) and a bolt-on half-arrow cutting edge are also available for the 980H buckets. The Cat K Series™ tooth system features an easier-to-install tip and provides very secure tooth retention. No special tools are required for installation or removal.
Special Machine Arrangements
When you have a specialized operation, you need a specialized wheel loader to be productive. A variety of machine arrangements are available for the 980H.
Aggregate Applications
Looking to increase productivity in your quarry? Two packages are available for the 980H to provide that increase. The Aggregate Loader Package provides the 8 yd3 (6.1 m3) general purpose bucket. The Premium Yard Loader Package provides the ultimate in productivity and convenience options at an exceptional value. Autolube, Aggregate Autodig, Payload Control and Ride Control will reduce operator fatigue and make your wheel loader the most productive aggregate loader available.
Forestry
The Forest Machine Arrangement equips the 980H with an extreme service transmission, heavy duty tilt cylinders and 4, 500 lb (2041 kg) counterweight for the strength and durability required to be productive in this tough application. Logging and millyard forks, woodchip and clean-up buckets can be added to equip the 980H for forestry applications.
Industrial Loader
Heavy duty guarding and special features designed specifically for industrial applications, such as waste and scrap handling, allow the 980H to withstand the harshest of conditions. Work tools designed specifically for these applications can be added to the machine.
Share this article
Related Posts