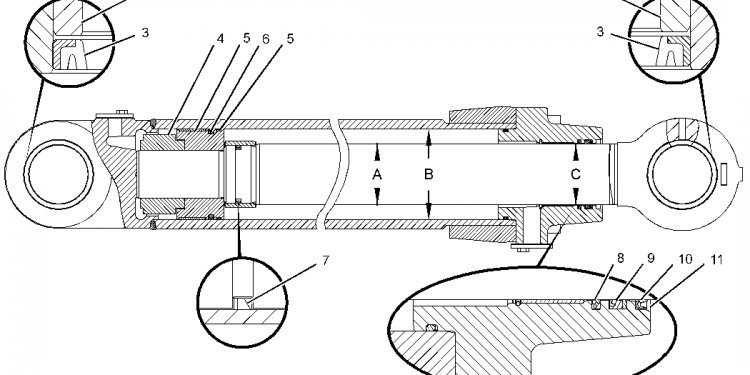 Caterpillar Material specifications
Simplified and easy maintenance save you time and money. Cat® dealer services help you operate longer with lower costs.
Ground Level Maintenance
Caterpillar designed its D Series Material Handlers with the operator and service technician in mind. Gull-wing doors, with pneumatically-assisted lift cylinders, effortlessly lift up to allow critical maintenance to be performed quickly and efficiently while maintaining operator safety.
Extended Service Intervals
The D Series Material Handler service and maintenance intervals have been extended to reduce machine service time, increase machine availability and reduce operating costs. Using S·O·SSM Scheduled Oil Sampling analysis, hydraulic oil change intervals can be extended up to 6, 000 hours.
Engine Oil
Cat engine oil is formulated to optimize engine life and performance. The specially formulated oil is more cost effective and increases engine oil change interval to 500 hours, providing industry leading performance and savings.
Air Filters
Cat air filters eliminate the use of service tools, reducing maintenance time. The air filter features a double-element construction with wall flow filtration in the main element and built-in mini-cyclone precleaners for superior cleaning efficiency. The air filters are constantly monitored for optimum performance. If airflow becomes restricted, a warning is displayed by the way of the in-cab monitor.
Capsule Filter
The hydraulic return filter, a capsule filter, prevents contaminants from entering the system when the hydraulic oil is changed.
Fuel Filters
Cat high efficiency fuel filters with a Stay-Clean Valve™ features a special media that removes more than 98% of particles, increasing fuel injector life. Both the primary and secondary fuel filters are located in the engine compartment and can be easily changed from ground level.
Water Separator
The D Series is equipped with a primary fuel filter with water separator located in the engine compartment. For ease of service, the water separator can be easily accessed from ground level.
Fuel Tank Drain
The durable, corrosion-free tank has a remote drain located at the bottom of the upper frame to remove water and sediment. The tank drain with hose connection allows simple, spill-free fluid draining.
Share this article
Related Posts