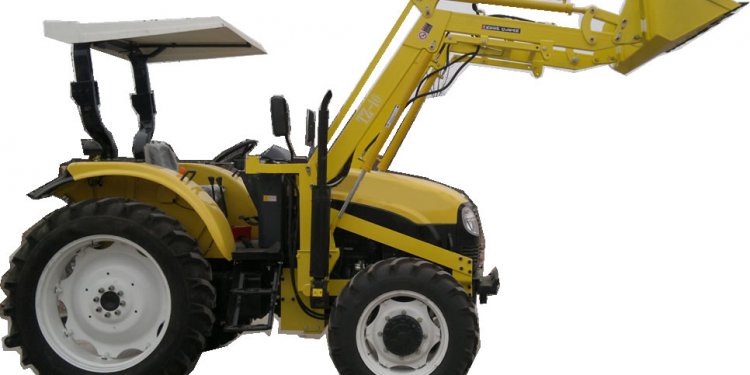 Front end Loader Tractor
Front-end loaders are versatile and can be a valuable tool for farm work. However, they change the center of gravity and the stability in the tractor-loader combination, so they can be dangerous if not operated properly. Changing the center of gravity presents a potential tipping hazard for the operator.
Use a front-end loader only for its intended purpose.
When traveling with a load, keep the bucket low.
Watch for overhead clearance with the bucket raised.
Read and follow the directions in the operator's manual for the tractor. Only install loaders designed specifically for the tractor to reduce the chances of an accident with a front–end loader. Equip the loader with a roll-over protection structure and a seat belt for the best protection.
Use a front–end loader only for its specific purpose. Never use it for such things as removing fence posts, towing or to knock something down. Never allow people to ride in the bucket. Never walk or work under a raised loader. Raise and lower the loader arms slowly and steadily. Never move or swing a load with people in the work area. If the tractor is to be used in tillage operations, remove the bucket first.
Load the bucket evenly, and avoid overloading to prevent upsets. Do not exceed the load limits listed in the operator's manual. Keep the bucket low while carrying loads and operating on hills. A hole or sudden bump can easily upset the tractor if the bucket is carried and the rougher the terrain, the greater the danger of an upset.
Unsecured loads such as large, round bales carried without a bale fork or grapple can roll back and crush the operator. With loaded buckets, drive forward when going uphill. Back downhill with loads. Allow extra room to turn and maneuver because of the extension of the bucket.
Travel slowly with front–end loaders filled. Carry the load low, to maintain stability and visibility. However, make sure the load is high enough to avoid contact with the pavement. Be careful when turning with loads, especially those that may shift or slide. Add extra weight on the rear of the tractor to counter-balance the weight of the load of the front end loader. Check the operator's manual for specific recommendations.
Share this article
Related Posts