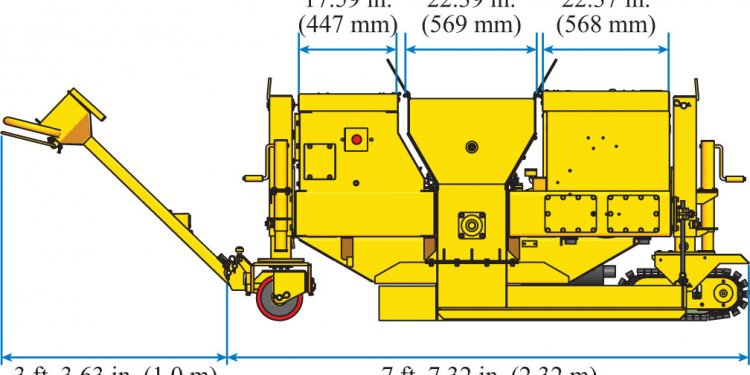 Curb Cadet
Highly Mobile Compact Curb Machine

• The Curb Cadet will slipform concrete curb or extrude asphalt or concrete curb. The extruder is capable of handling zero-slump concrete. It is self-propelled and compact in size for easy loading and transporting from job-to-job.

• The manual travel control valve and knob, grade controls, engine controls and warning light are located in the handle.

• The manual steering assembly with control panel provides the operator with front wheel steering. Mobility is achieved with a hydraulically driven, rear-mounted track. An optional three-track machine is also available.

• The manual hydraulic system is easy to operate, troubleshoot and maintain with adjustments made by simply tuning a knob on the valve. The vibrator control knob and the cross-auger control knob are located on the front console of the machine.

• The coordinated stop switch provides automatic on/off control of vibrator and/or auger synchronized with forward travel.

• Elevation of the Curb Cadet is controlled by three hydraulic cylinders with 10 in. (254 mm) stroke and an additional 5 in. (127 mm) manual adjustment.

• Molds are quickly interchangeable on the Curb Cadet and can accommodate concrete mold configurations that will fit within a 12 in. (305 mm) wide by 14 in. (356 mm) high section. For other slipform mold configurations, please consult the factory.

• Curb may be poured on either side of the machine. The hopper and mold is adjustable up to 12 in. (305 mm) for center pour or side pour. With the slipform mold, the Curb Cadet can place concrete over dowels or continuous reinforcing bar.

• The hydraulically powered extruding auger and the cross-feed auger easily convert from the extrusion to the slipforming operation.
Share this article
Related Posts