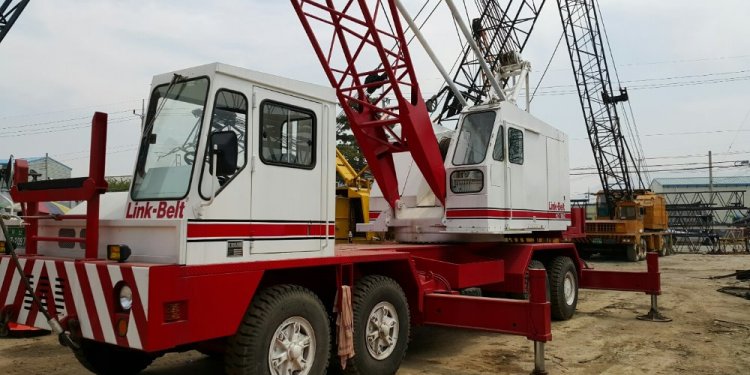 Link Belt Truck cranes
( the home button will return you to the start page )
Liftmoore has one of the largest lines of cranes. Ranging from our smallest 800 lb. Max capacity (4, 500 lb. Moment rated) DC powered unit, to our largest 10, 000 lb. Max capacity (72, 000 Moment rated) hydraulic powered unit.
-
Intermittent Duty as per S.A.E. J706
(section 6.2) 12V DC Powered Cranes, From 800 Lb. Max Capacity to 6, 000 Max Capacity. All DC powered cranes have limited duty cycles, by design DC Powered Motors are limited by the heat it generates, motors must be allowed to cool and the battery to replenish its charge. The truck should be running anytime the crane is used. Exceeding the Duty Cycle and or lack of an adequate power supply will result in premature motor failure.
NOTE: New OSHA REGULATIONS NOW IN EFFECT FOR 2, 000 LB. and UNDER CAPACITY CRANES when used in construction (links to documents are available on the DC Powered products page)
- Where Longer Duty Cycles are needed Hydraulically Powered from the trucks P.T.O / Pump combo or Clutch pump. From 3, 200 Lb. Max Capacity with a moment rating of 10.000 Ft-Lbs up to 10, 000 Lb. Max Capacity with a moment rating of 72, 000 Ft.-Lbs. A jackstand should be used in conjunction with any of the smaller cranes to keep truck as level as possible while loading. Outriggers are required on most installations to meet the requirements of 1910.180 in regards to stability. The Installer is required to perform the mandated stability test and fill out the supplied placard and affix it to the body of the crane. Liftmoore offers Boom rest, Pedestals and Reservoirs sized to match your crane. All controls are removable, all controls use weather resistant toggle switches.
Demo Truck for sale – 2014 Ford F-550 with Liftmoore crane and VMAC multifunction unit
Brochure 2014 Ford F-550 Service Truck with 3055DXP-20.
Demo Truck for sale – 2014 Dodge Ram 5500 with Liftmoore crane and Vanair multifunction unit
Share this article
Related Posts