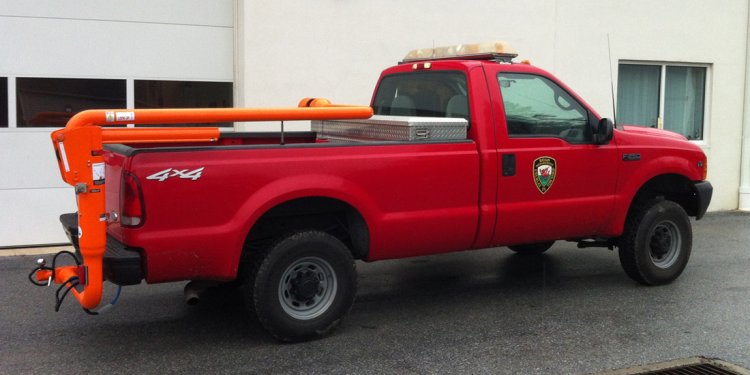 Crane for Truck bed

There are bed mount and hitch mount cranes. A bed mount crane may be a better choice for a tradesman or other regular user, especially if free access to the hitch is needed. However, there are bed mount cranes that can be folded down when not in use. The downside to a bed crane is that mounting requires drilling into the truck bed. The support for hitch mount cranes installs into any 2" receiver hitch, but the actual crane is positioned to the side for unobstructed access to the truck bed. Hitch mount cranes are easy to remove and install, for lifting power when you need it that can also be quickly stored away.
A pickup is great when you need to move big, heavy objects. Furniture, appliances, motorcycles; transporting each is a piece of cake…except for getting them in and out of the bed, especially without help. Ramps are an option for motorcycles, but the possibility of the bike pitching over the other side of the ramp as you try to load it by yourself is too painful to imagine. Bed slides are helpful, but you've still got to get the cargo up onto the slide.
The cargo loading solution is the same one used every day throughout the world for picking up and depositing heavy cargo – a crane. But these aren't just any cranes, they're specially designed for use with pickup trucks, and models are available for both regular and occasional use. When you wonder how you're going to get something in and out of your truck bed by yourself, one of our cranes is the answer.
You also have a choice of manual or electric powered cranes. A DC electric crane must be connected to your truck's 12V power supply, while a manual crane uses a pulley system to transform your hand cranking power into the mechanical advantage necessary to lift hundreds of pounds. Capacities vary according to model, but are generally within the 600-900 lbs. range, plenty for one person to hoist the average motorcycle or appliance. Cargo Ease cranes were designed to be the perfect complement to Cargo Ease truck bed slides. Simply hoist your cargo, roll out the cargo slide, lower your cargo, and roll in the slide.
Share this article
Related Posts