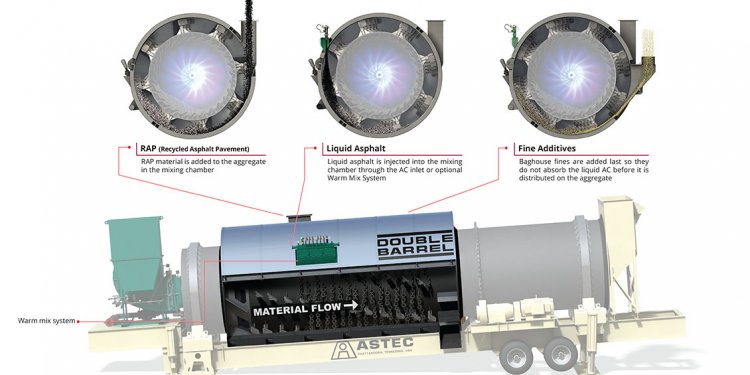 Asphalt dryer Drum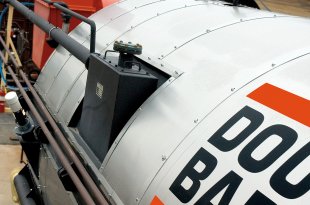 Liquid AC enters the drum when aggregates and RAP have reached the proper temperature.
Mixing paddles ensure that liquid AC thoroughly coats all of the aggregate.
Baghouse fines enter the mix last so they don't soak up all of the liquid AC.
Mix Long For A Better Product
Astec's extraordinarily long mixing chamber allows long mixing times. Long mixing times, together with Astec's sequential mixing, ensure uniform and consistent incorporation of all mix materials. So even if you're dealing with high raw material variance or heavily modified or sticky mixes, the Double Barrel dryer/drum mixer helps you produce homogenous, strong mixes.
Add Recycle First
First in the mixing sequence, recycle material is added to the aggregate in the mixing chamber. Recycle enters into the mixing chamber through a rubber seal. Recycle, which may be RAP, roofing shingles, crumb rubber, or a mixture thereof, is heated by contact with the hot virgin aggregate. When running recycle, the virgin aggregate is heated to higher temperatures than usual.
Coat All Aggregate With AC
At the point where virgin and recycled materials are at the proper temperature and thoroughly mixed, liquid asphalt cement (AC) is injected into the mixing chamber. The 4-foot long AC manifold thoroughly douses the mix. As the mix moves through the mixing chamber, it is continually stirred by mixing paddles.
Embed Fines Into The AC Layer
Baghouse fines and other additives enter the mixing chamber and become embedded in the thick layer of asphalt coating the rock. Astec's sequential mixing keeps fines from soaking up more than their share of AC because the AC has been well distributed before fines are added.
Share this article
Related Posts