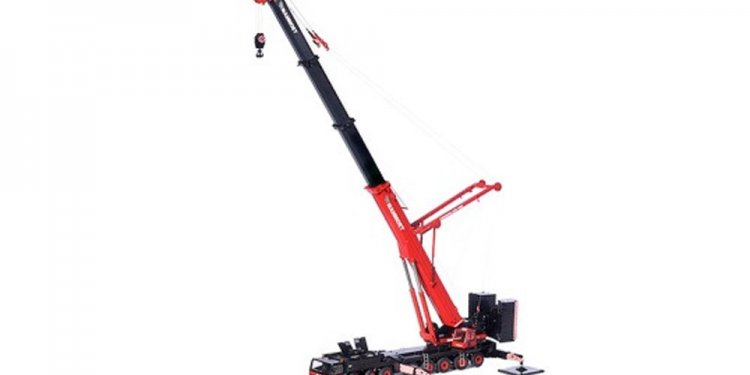 Truck mounted Tower cranes
A wide range of different types of crane can be used on construction projects as a means for lifting and moving materials and other building elements from place to place. Cranes can range from a simple rope pulley to a tower crane fixed to the top of a skyscraper. The choice of crane for a particular site will depend a number of different factors, including:
The height and horizontal distances that need to be covered.
The radius of the swing.
The time period of the lifting operations.
The utilisation factor (the ratio of time spent in use compared to the total time it could be in use).
The degree of mobility required.
Mobile wheeled cranes are mounted on a wheeled chassis with stabilisers that can be used when lifting to prevent movement. Generally, crane is controlled and driven by an operator inside the cab. The slewing ring beneath the cab allows for a 360-degree turning circle, and the boom extends upwards supported by suspension ropes.
Lifting capacity: Tends to vary from 3 - 50 tonnes, but is generally around 10 tonnes.
Average speed: Usually does not exceed 30 km/h.
Mobile wheeled cranes are commonly used for moving moderately heavy , equipment and other plant in goods yards or storage areas.
Truck-mounted cranes are mounted on a truck or lorry specially adapted to carry an increased load. The lorry can be driven from a front cab as a conventional vehicle, as well as having additional controls for a lattice mast or telescopic boom which extends in sections. Fly jib attachments can be used for lattice cranes to increase lifting capacity.
Lifting capacity: Tends to vary from 5 – 20 tonnes, and can be increased by using outrigger stabilising jacks. Lattice masts can lift in excess of 100 tonnes.
Average speed: Can usually travel at around 30 mph (65 km/h).
As this type of crane is very transportable and has a short site preparation time they are commonly used for short hire periods.
Track-mounted cranes are mounted on a diesel powered crawler unit together with a lattice mast that can accommodate a fly jib attachment with additional lifting ropes to allow for better site coverage. They can move at low speed around sites but need to be transported to and rigged on the site.
Lifting capacity: Tends to vary from 5 – 30 tonnes.
Average speed: Usually does not exceed 2 km/h.
The flexibility of this crane is its main advantage, as it can be adapted to act as a dragline with the addition of a winch drum at the front. The tracks allow for it to be operational on poor ground conditions.
Gantry crane
Also known as portal cranes, gantry cranes typically consist of two 'A' frames connected by a lattice cross member which straddles the work area. The lifting gear is suspended from the horizontal cross member and can move along it on rails. On small gantry cranes, the 'A' frame is wheel mounted, whereas larger cranes are mounted on powered bogies that run on rail tracks. Larger cranes tend to have the lifting gear mounted with a driving cab on the cross member.
This form of crane is commonly used for repetitive work on low to medium-rise developments, or in stock yards to move equipment and materials.
Despite having a similar appearance to the traditional tower cranes, static cranes differ in that the lattice mast is mounted on the slewing ring meaning that the whole tower rotates from one fixed position.
External references
'Introduction to Civil Engineering Construction' (3rd ed.), HOLMES, R., The College of Estate Management, (1995)
Share this article
Related Posts