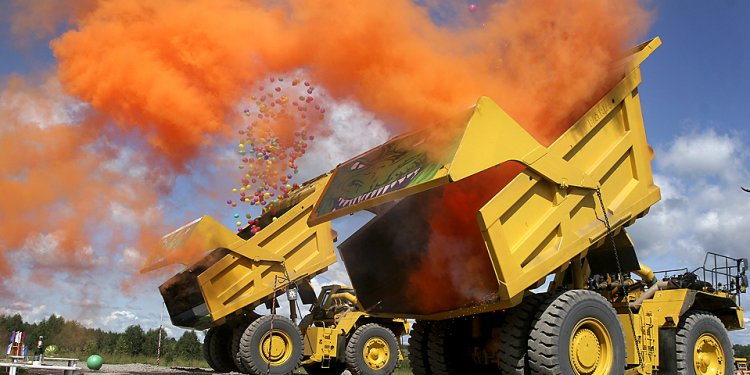 Earth Movers trucks
"… the decision to buy Cat trucks has been one of the best things I've ever done because it has given us the base to build a better business. No question!"
"The trucks are doing the right thing, for sure, but you don't always get the two things together, good trucks and good service. When it happens, it's definitely worth hanging onto."
"The people at Hastings Deering have been right on the ball from day one and like I said, buying the Cats has been one of the best business decisions I've ever made."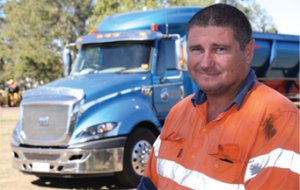 FLEET PROFILE
Industry Earthmoving, Civil Construction, Raw Material Tipper Transport and Specialised Bitumen Haulage
In Business 14 years
Truck CT630 and CT630LS
Employees 15
A self-confessed student from the school of hard knocks, Dale Groves has learned many things from a lifetime in and around trucks and earthmoving machinery. High on the heap is the knowledge that no matter how good a particular truck or piece of machinery may be, it is made immeasurably better when supported by people fully committed to its success.
Dale and wife Jodie are proprietors of Hervey Bay Earthmovers, around 300 km north of Brisbane, with seven Cat® CT630 models spearheading a diverse operation which in large part mixes earthmoving and civil contracting duties with specialised asphalt haulage.
Bought from the Cat Trucks Hastings Deering dealership at Richlands in Brisbane, the Groves' first batch of four Cat trucks arrived in 2012 and it's an adamant Dale who reports, "The trucks have not missed a beat."
"The service through Hastings Deering has been excellent. One hundred percent. Seriously, I can't fault it at all."
Yet it's a thoughtful Dale Groves who concedes that the road to a successful family-owned business has been long and occasionally bumpy. As he explains, it all started at just 12 years of age, working with his father in a Gold Coast sand quarry excavated during the heady days of booming development along southern Queensland's famous beachfront.
Seeking more profitable pastures, 1992 saw a move further north to Hervey Bay and as following years would prove, it was the right move at the right time.
There are certainly no regrets
Sensing the opportunity, in 2000 he bought a well-used truck and a second-hand Bobcat, soon after establishing Hervey Bay Earthmovers. Growth, he says, was slow but an evolving relationship with Sunstate Group Queensland (SGQ), a local privately-owned civil contracting company, was at least providing the prospect of a sound future.
However, it wasn't until 2010 when SGQ won a road construction project between Emerald and Rockhampton that Hervey Bay Earthmovers experienced its first burst of significant growth.
"We really started to grow from then on, " Dale exclaims, proudly adding that Hervey Bay Earthmovers is also SGQ's main contractor for asphalt and tipper work.
"With that road project, we quickly came to the point where we needed a few trucks in a hurry to pull conveyor floor trailers for spreading asphalt, so we bought a couple of second-hand units. But it didn't take long to realise that new trucks were a better economic proposition than second-hand, " he concedes.
Considering his options for new trucks, a random opportunity to look over a Cat CT630 was more than enough to impress not only Dale Groves but also the company's staunch leading hand, Anthony Hickey. "It all started from there, " he explains, with four new Cat CT630B extended cab models promptly joining the operation, dedicated to asphalt work.
Since then, three more new Cats have joined the operation – two day cab CT630 tippers hauling quad dog trailers and the pride of the fleet, a CT630LS.
On the reasons for the CT630LS with its highly appointed, spacious sleeper, a smiling Dale Groves explains, "I liked the truck the minute I saw it and my thinking was that I'd be the one driving it, but that just hasn't happened because I can't get Anthony out of it."
"So far, I've had just one day in it but we're looking to replace one of the early second-hand trucks and right now I'd say another LS is probably on the cards. You never know, I might get to drive that one."
Thoughtful for a moment, Dale adds, "Reliability is the big thing with the Cats but there are no complaints from drivers either. Comfort and performance are definitely strong points, and the torque of the Cat engine is very forgiving."
"There are certainly no regrets."
A reflective Dale Groves concludes, "I've had other makes and models in the past and with the growth we've had over the past few years, sales reps from several other brands have been knocking on the door. Seriously though, I can't see any reason to change."
Share this article
Related Posts