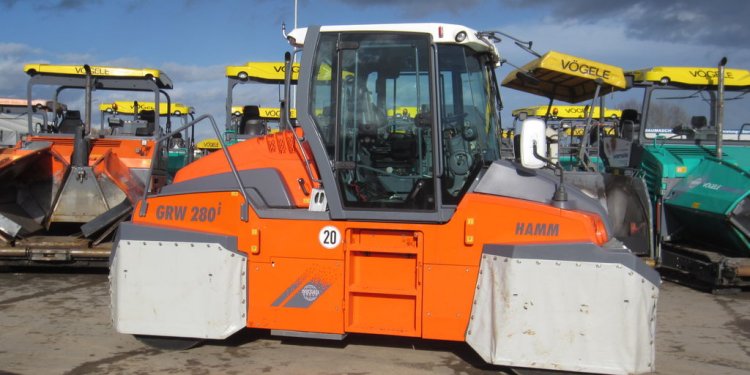 Pneumatic rollers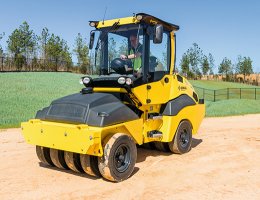 TypeWorkingwidth
inch (mm)Performance
hp (kw)Operating weight
lbs (kg)
BW 11 RH-568.0 (1727)74.0 (55.0) Kubota11023 - 20000 (5022 - 9054)
Fields of application: Compaction of asphalt wear courses, asphalt binder courses and asphalt surface layers as well as compaction of natural soils and materials stabilized with lime or cement. Due to their excellent kneading effect pneumatic tired rollers achieve an excellent sealing of the surface. The modern hydrostatic drive concept allows for an especially sensitive drive control of the roller in three speed levels.
Options:
Cabin with heat & A/C Headlights (front and rear) Turn signals and 4-way flashers Heat retention shields Pressurized water spray system Special paint, 1 color (Enamel only) Radial Tires w/ approx. 14 ply rating Steel ballast Pressure sprinkler system Indicator and hazard lights
Standards:
Scraper per wheel Hour meter Warning horn Control panel for Engine oil pressure Engine temperature Air filter vacuum Charge control Hydraulic oil filter Coolant Level fuel tank capacity 2 Outside mirrors Lockable anti vandal dashboard protection Operator's platform with: one steering wheel Laterally sliding swivels Back-up alarm
Service Kits
Long downtime or even subsequent damage of your BOMAG machine can be a result of fitting seemingly less expensive parts or actually omitting regular service. Avoid unneccessary downtime by using BOMAG Service Kits! Replace the required service parts within the recommended service intervals with genuine BOMAG parts.
We offer the usual service and wear parts for BOMAG machines at attractive bulk prices.
The prices are graded by pack size - the larger the pack, the better the individual price. See for yourself how competitive our prices are!
BOMAG Spare Parts
Satisfied customers are the basis of our success – that's why the BOMAG Spare Parts Service is at hand when you need us. You as our customer rightly demand a great deal of our Spare Parts Service: Fast parts supply and rapid delivery, distinct technical clearance and excellent availability of our service staff.
Share this article
Related Posts