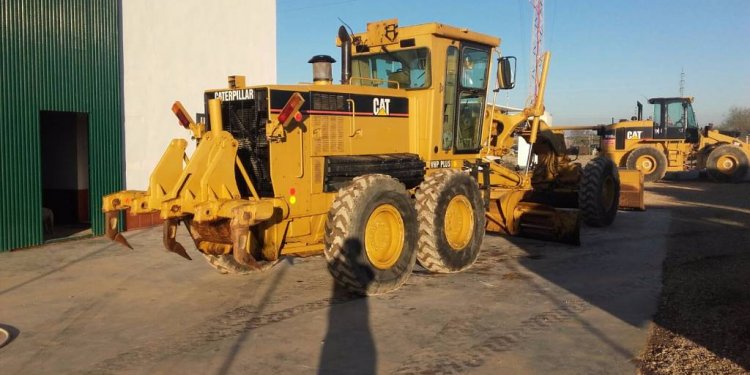 Caterpillar 140H Motor Graders
Free specifications for all classes of equipment
Caterpillar 140H Cat 140H VHP Caterpillar 140H Caterpillar 140H VHP blade Caterpillar 140H VHP controls Caterpillar 140H VHP interiorThe was introduced in 1995 in the USA, Australia, and Brazil. Production began in China in 2005.
Features
The 140H has a 3306 turbocharged engine producing 150 or 185 flywheel horsepower (FWHP). It has an eight speeds forward, six reverse direct drive powershift transmission with electronic control.
The 140H was manufactured in the USA, with a 2ZK, 8JM, or 8KM serial number prefix; in Australia, with a 9ZN prefix; and in Brazil, with a 3AS, 5HM, or 9TN prefix. The 8JM, 8KM, 5HM, and 3AS units have engine power management. All others have variable horsepower.
The 9ZN, 3AS, 9TN, 8KM, and 2ZK units have integrated engine compartment doors and a contour seat.
Modifications
In 1996 Caterpillar made an emission-regulated engine standard on two American units, beginning with 2ZK00656 and 8KM00375. All American units received extended life coolant, beginning with 2ZK01204, 8JM00261, and 8KM00394.
Production of 8KM ended in 1996.
In 1996 and 1997 Cat added radiator cleanout access covers and new battery boxes, and modified the fuel sending unit, beginning with 9ZN00151, 3AS00400, 5HM00800, 9TN00120, 2ZK01717, and 8JM00270. At the same time, the 3AS, 5HM, 9TN, 2ZK, and 8JM units had modifications made to their drawbar to improve visibility. The 3AS and 9TN units also received emission-regulated engines.
In 1997, scheduled oil sampling ports, a circle drive slip clutch, and an optional 12-volt power port were added, beginning with 3AS00450, 5HM01150, 9TN00300, 2ZK02392, and 8JM00280. At the same time the 3AS, 9TN, and 2ZK units had their oil filter access improved, and received optional autoshift. The Australian unit modified its oil filter access, and received optional autoshift and an optional 12-volt power port, beginning with 9ZN00205.
In 1998 variable horsepower was increased to 165 or 185 FWHP, beginning with 9ZN00261, 3AS00479, 5HM01412, 9TN00801, 2ZK03446, and 8JM00291. A four-legged spider gear replaced the three-legged spider in the differential along with a single piece bearing cap to improve the differential's service life, beginning with 9ZN00264, 3AS00474, 5HM01406, 9TN00797, 2ZK03481, and 8JM00295.
In 1999 the differential spider gear bearing material changed from aluminum bronze to manganese bronze to decrease the material transfer from the bearing to the spider leg, beginning with 9ZN00339, 3AS00508, 5HM01487, 9TN01012, and 2ZK04488.
In 2000 Cat modified the lower ripper link to improve its service life, beginning with 3AS00563, 5HM01607, 9TN01043, and 2ZK05156.
In 2001 final drive sun gear shafts were replaced, beginning with 9ZN00420, 3AS00589, 5HM01746, 9TN01054, and 2ZK05796. The fan spider was modified, beginning with 9ZN00427, 3AS00593, 9TN01054, and 2ZK05711.
Share this article
Related Posts