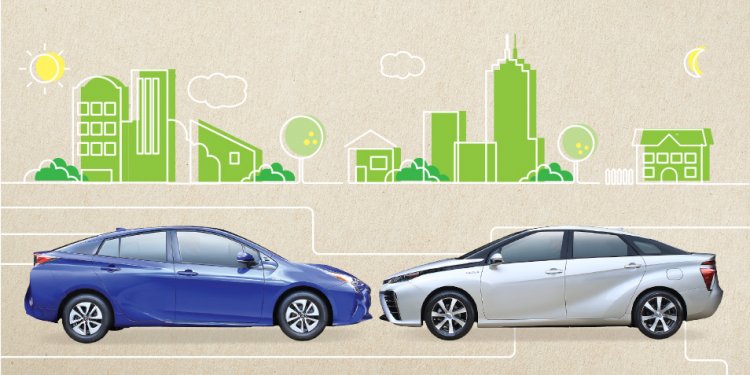 Toyota Materials
Some materials, such as steel and seat cushions, become part of the vehicle; others such as cedardraw oil are only used to make a process work; still others end up as waste. Within Toyota's core area of focus known as "Materials, " activities during fiscal year 2014 through 2016 are focused on chemical management and waste minimization.
CHEMICAL MANAGEMENT
Chemical management addresses Toyota's use of certain chemicals of concern in our products and manufacturing processes, as well as the shipment of items (such as used hybrid batteries) that contain chemicals of concern. Every part used to produce vehicles, from seat cushions to the dashboard to exterior paint, is made up of chemicals. Toyota's engineers manage chemical content at the vehicle design stage, where we have the most influence over the composition of our products. As a result, we are able to minimize the impacts to the environment from the use of chemicals both in operations and at the end of a vehicle's life.
Around the world there are a number of regulations and voluntary agreements concerning the use of chemicals in vehicles. These regulations either restrict or prohibit the use of certain chemicals, or require their use to be reported to a government agency. Toyota fully complies with these global regulations and voluntary agreements, with the intent of reducing the potential risks from chemical use in our vehicles and in all aspects of our business.
Chemical Management Target: Implement IMDS data management system enterprise wide (on track)
Toyota uses the International Material Data System (IMDS) as the primary tool for tracking the chemical composition of parts and accessories. Suppliers are required to enter into IMDS detailed information about the chemical composition of parts and accessories. Through this system, Toyota tracks the use of chemicals on the Global Automotive Declarable Substance List (GADSL), a list developed and maintained by a global automotive stakeholder committee, which Toyota is chairing this year.
Use of IMDS is particularly crucial for ensuring compliance with international recyclability and chemical management laws (such as those in China, Korea, Europe and Japan). Therefore, we adopted IMDS in North America to facilitate tracking and verification of compliance with these laws for vehicles assembled here and exported to international markets. For example, Toyota is exporting the Avalon, Camry, Sienna and Venza from North America to South Korea. Data collected with IMDS is used to verify compliance with South Korea's recyclability laws.
Share this article
Related Posts