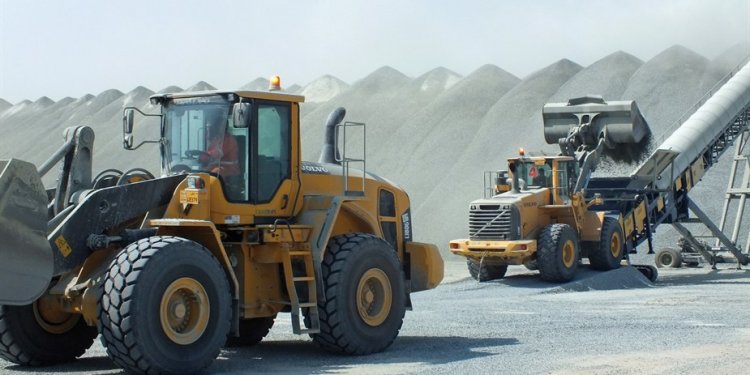 Volvo Loaders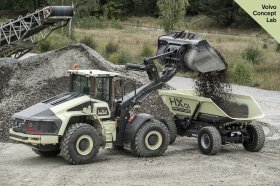 Volvo Construction Equipment introduced its first concept of a hybrid wheel loader at the 2008 ConExpo-Con/Agg … and then went silent.
The long wait between then and now was acknowledged by Scott Young, Volvo CE's program manager for electromobility during the company's recent Xploration Forum. But the wait has had its upsides, Young says: electrification technology has vastly improved in the meantime, and the company can also take advantage of the systems parent Volvo Group has applied on its buses.
But perhaps the biggest change during the wait is Volvo's rethinking of its technology process: "It's now fundamental that we connect earlier and more closely with our customers, " Young says. "We have to understand what the surrounding impacts are."
The LX1
All that is background to what Volvo revealed at the Xploration Forum, its concept LX1 hybrid loader. Volvo says the L120-size LX1 is "fundamentally a new machine, " with 98 percent new parts, and capable of doing the work of a L150-size wheel loader. It will be one of the key machines that Volvo intends to use in its Electric Site research, to be completed in 2018.
"We can get much greater efficiency with electric systems, compared with conventional systems, " Young says. "As opposed to mechanical or hydraulic systems, with electrification we can decouple and move everything around and change the way the machine actually runs. And because subsystems are not linked, they can now be optimized individually, leading to greater efficiency."
For example, on the LX1, since the electric motors are on the wheel hubs, Volvo was able to change the frame of the machine, eliminating the axles and moving the bucket closer to the center of the machine. "This allows us to lift more with a physically smaller machine, " Young explains. Additional energy storage led to a reduction in engine size, and now small electric motors propel the machine's hydraulic system. The result is a machine that has 50 percent more fuel efficiency than a conventional machine.
That 50 percent gain in fuel efficiency is a much larger number than the 10 percent gain Volvo was looking at in its initial hybrid loader concepts, Young says. "And this can go much, much farther than just being used on a wheel loader, " he adds.
Field tests
The LX1 has gotten the attention of long-time customer John Meese, senior director of heavy equipment at Waste Management. The massive environmental services firm, which runs 270 landfills throughout North America, has purchased more than 2, 000 Volvo machines since 2002, which is by Meese's estimation is the largest Volvo fleet in the world.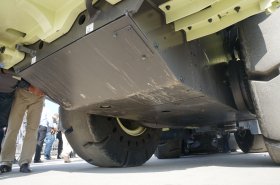 Although competitors came calling with hybrid loaders, Meese says he held true to the brand even though he heard nothing from Volvo about a possible hybrid. "It was like listening to crickets, it was so quiet from them, " Meese says.
The silence was finally broken last November when Meese visited Volvo's Eskilstuna, Sweden, facilities and gave him a sneak peek at the LX1. "We were immediately excited, " Meese recalls. "It's the hybrid that they promised eight years ago.
"One of the first things you see is the dramatic slope of the hood, " he continues. "Our transfer stations are in tight quarters and visibility is important. You notice that you can get right up against the back of the machine and the operator can see you. That's huge."
The LX1 driveline has no axles; instead electric drive motors are mounted at each wheel. "In a conventional machine, the axles have a tendency to be the lowest part of the machine, which means it can get hit by waste material — just like a rock can hit them if you're working in a quarry, " Meese comments. "With no axles, an important part of the machine is not hanging low."
The machine also has electric hydraulics, an energy storage system and a smaller 3.6-liter engine than a comparable conventional machine. "With a diesel, even at idle it burns a couple of gallons of hour, " Meese says. "It's not doing anything except throwing money out of the stack. With the LX1, in the half hour I ran it last year, the engine didn't start up. This means that we may be able to run a shift and not have to have the engine running. This is so quiet, we think it will give us an opportunity to expand our hours of operation because there won't be any noise pollution. We see a huge savings there."
Now Waste Management is participating field studies of the LX1 at two facilities in California, where the prototype will go head to head with conventional loaders in fuel efficiency and emissions reduction tests. "We're going to benchmark every possible thing in terms of emissions, " Meese says. "We'll also pull in a lot of anecdotal information from the operators. We run more than 400 Volvo wheel loaders and a good percentage of those are L150s. If we save 10 percent fuel on an annual basis on that block of wheel loaders, it would save us 100, 000 liters (26, 417 gallons) of diesel fuel. And with a 50 percent savings of fuel, that's a pretty substantial savings."
Meese says Waste Management was an early adaptor of telematics, and "we feel even more committed to what this type of technology can do. If you're an end user with a fleet of machines and you don't know what's happening with them through telematics, shame on you. And if you recognize what electromobility can do for you and you sit back and wait, shame on you, because again you're missing the boat. I say adopt it early."
Share this article
Related Posts