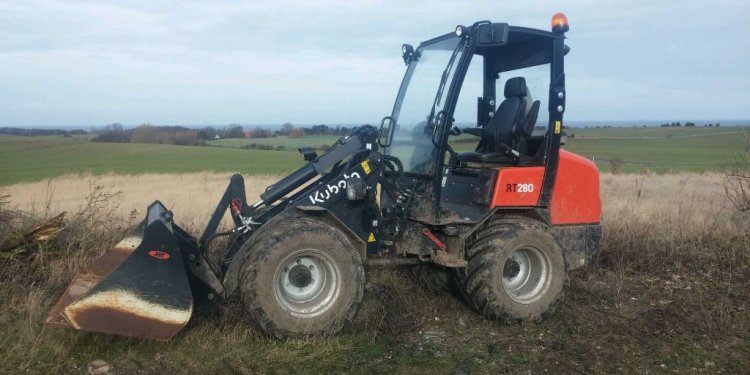 Kubota Mini Loader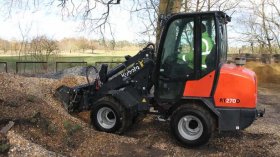 Kubota now offers a substantial range of articulated compact wheeled loaders in the UK. Emily Padfield reports.
Japanese rising star Kubota has revamped its wheeled loader offering and pushed up production to meet rising demand from the German market. This means UK farmers can now get their hands on these multi-purpose machines, says the company, many of which are bespoke to each user's requirements.
Kubota's line-up of wheeled articulated loaders includes two ranges, the RT and RO. The six-model RT series starts with the smallest 20hp model, which has a lifting capacity of 450kg to 2.17m, and tops out with the largest, the RT280, which has 44hp to play with and can cope with 1, 500kg to a height of 2.48m.
All are fitted with Kubota engines, which the company says is one of its strongest selling points. Everything is manufactured in house – including the crankcase, crankshaft, camshaft, cylinder head and connecting rods.
A variety of heavy-duty chassis arrangements are offered and the hydraulic tank is enclosed in the frame throughout, which adds extra weight at the back end.
The range-topping RT280 has heavy-duty axles with a max capacity of 12t, which allows for transport speeds of up to 25kph. Smaller models are limited to 12kph, 15kph and 18kph, depending on specification.
Tight corners
With an articulation of 47deg, the RT-series can manoeuvre around tight corners without damaging the ground surface, says the company.
The driveline uses four-wheel hydrostatic drive with a high-capacity pump and Poclain wheel motors. An electronically controlled slip differential is also standard. Various canopy and cab options are available and there's a choice of joysticks.
The larger series, called the R065 and R085, is altogether heftier. Powered by 47hp and 62hp Kubota powerplants respectively, both can be specced with a full cab and feature construction-orientated features like anti-theft key specific security and digital diagnostic indicators.
Four operating modes
The hydrostatic transmission has four operating modes. "Normal" is for general yard and loading work, while "power" is more suited to jobs like digging or breaking out ground as it ups traction force by 40%.
Eco mode is said to improve fuel efficiency by 10-15% and is designed for transport and light duties, while Attachment mode allows the operator to set and maintain a precise attachment speed by using the engine speed control dial, which is independent to the travel speed.
Share this article
Related Posts