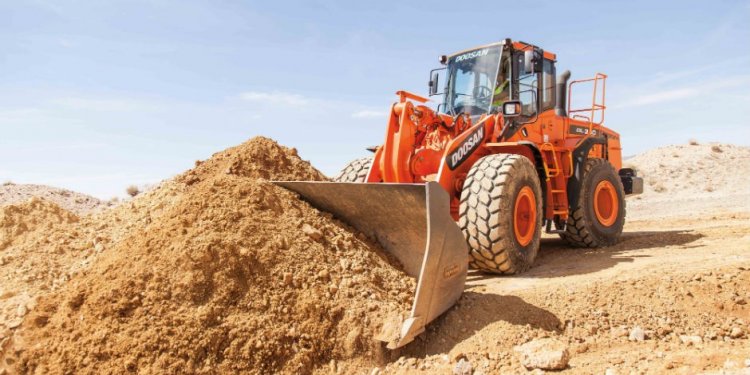 DOOSAN Loaders
Tough jobs don't stand a chance with the DL250-5 wheel loader. With an excellent combination of breakout force, size and lift capacity, it's a highly-capable machine for many applications.
It's ideally sized to handle a wide range of material handling tasks, from loading and transporting sand and gravel to snow and storm debris removal. With its High Lift option, the DL250-5 will easily load stockpiled, light materials like grain, fertilizer, coal or waste into high-sided trucks or hoppers.
Performance features include a powershift transmission with optimized hydraulic pumps, multiple power modes, Z-bar lift arm, return to dig, and limited slip differentials on both front and rear axles.
With the high lift option, you'll gain additional lift height and reach. Easily load materials like cement, coal, grain, fertilizer, or waste into high-sided trucks, hoppers or mixers. High lift is ideal for processing plants, scrap and recycling facilities, and agricultural operations.
An efficient cooling system features an all-aluminum reversible fan, rubber mounts that reduce vibration.
To help save valuable diesel fuel, auto-shutdown comes standard. When enabled, the feature will shut down the loader's engine when the preset idle time is met. Operators can configure the idle time from 3 to 60 minutes.
From the comfortable cab, it's easy to focus on your work. You're surrounded by more space, class-leading visibility, automatic air conditioning, an improved steering column, and ergonomically placed joystick controls. The air suspension seat features a right-hand control stand that's integrated into the seat assembly for increase controllability. Additional features include heated mirrors, a sun visor, and an optional rearview camera.
A standard 7-in. color LCD display provides helpful maintenance history and monitoring information, including a fuel consumption readout.
Maintenance is quick and easy on the DL250-5 wheel loader. Easily reach oil sampling and pressure test ports, and engine and coolant drains. Monitor your Doosan heavy equipment and manage maintenance to reduce operating costs with a 3-year subscription to Doosan Telematics.
To comply with Tier 4 emissions standards, the DL250-5 incorporates a high-pressure common-rail (HPCR) fuel delivery system as well as cooled exhaust gas recirculation (CEGR) combined with a diesel oxidation catalyst (DOC) and selective catalyst reduction (SCR). Read about our Tier 4 technologies to learn more.
Share this article
Related Posts